In the world of email marketing, there can be an overwhelming amount of options. From free to paid, ease of use to complicated, too many functions or not enough, it is hard to choose the right platform for email marketing that will suit your needs best. I struggled with choosing a platform myself when I first got started, which is why today I want to talk to you about how I decided on MailerLite + why I chose them over Mailchimp when it comes to email marketing.
*This post contains affiliate links. All that means, is that if you decide to sign up through one of these links, I may receive a small commission at no additional cost to you. Any commission made goes specifically to keeping A Life Transformed up and running, and I appreciate your contribution!*
Email marketing is an acquired skill, but having a great platform to craft your emails + newsletters makes a huge difference in how well your emails do. Most platforms offer so many options for ease of customizability to help with everything you want to do in the realm of email marketing. Whether you are using it to collect emails, send newsletters, create landing pages, forms, or more, there is a platform out there that will help you achieve your goal.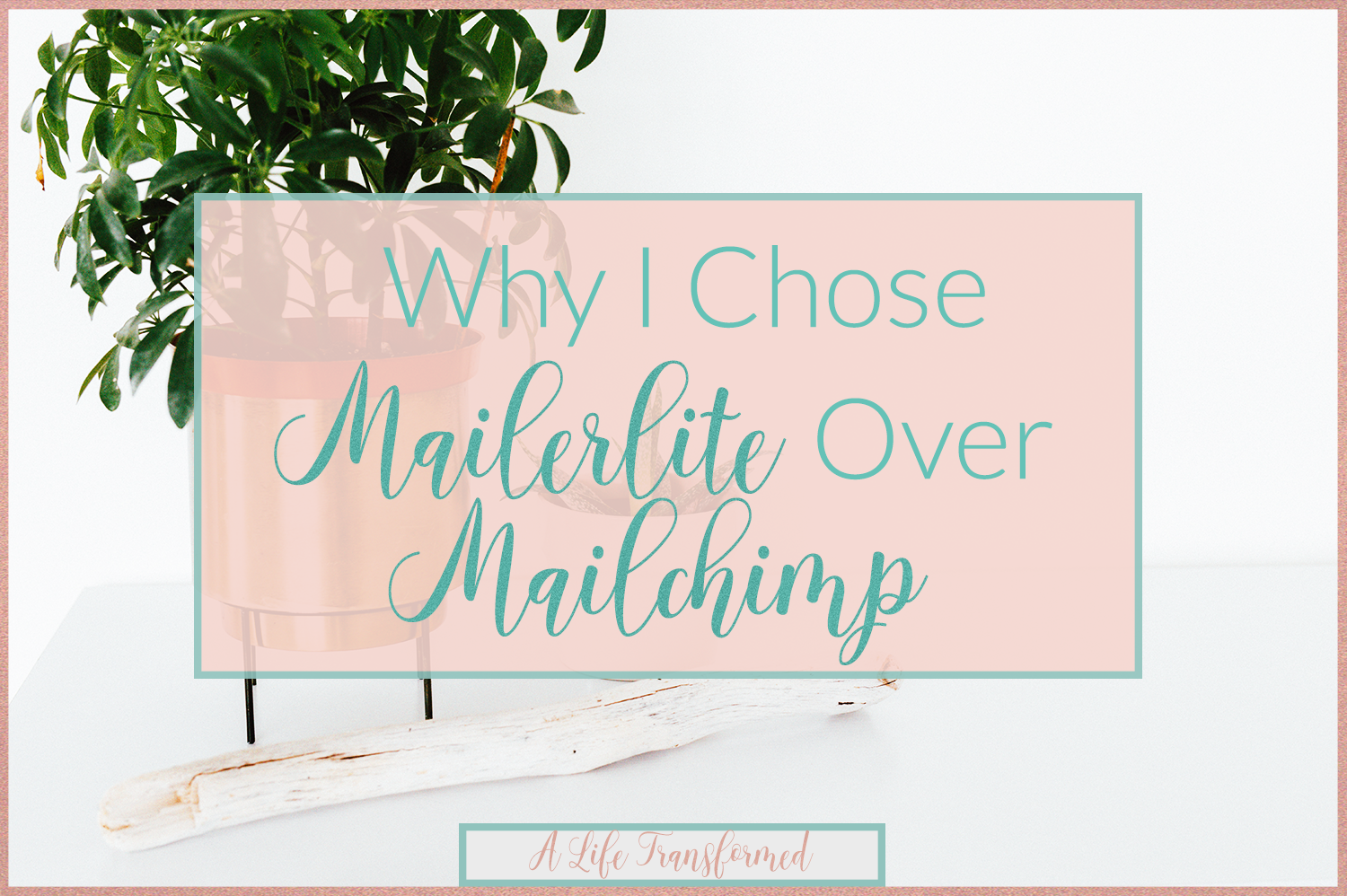 When I first got started with email marketing, I chose to use MailChimp. Mainly because that was the platform most people I knew were using at the time, and it seemed easy enough to use. After using the platform for about a year, I quickly realized that the platform was not as easy as I would like and I was creating less emails because I couldn't figure out how to use it effectively. Because of this, I decided it was time for a change. A blogging friend of mine, Summer, had sent an absolutely stunning email newsletter out that I was subscribed to. Curious what platform she used, I reached out to her. She told me about MailerLite, and I checked it out.
After playing around with the platform for about an hour, I was instantly hooked on this new platform. This platform was even easier to use than MailChimp, and I was absolutely sold. I needed something that was super easy to use, but also allowed for customization to fit my brand. Once I discovered this platform, I began the process of transferring all my data and contacts over to MailerLite right away. Email marketing just became a thousand times easier for me, and creating prettier email campaigns became a possibility and I was absolutely ready to go for it. I guarantee you will be head over heels in love with this platform after reading five reasons why I chose it!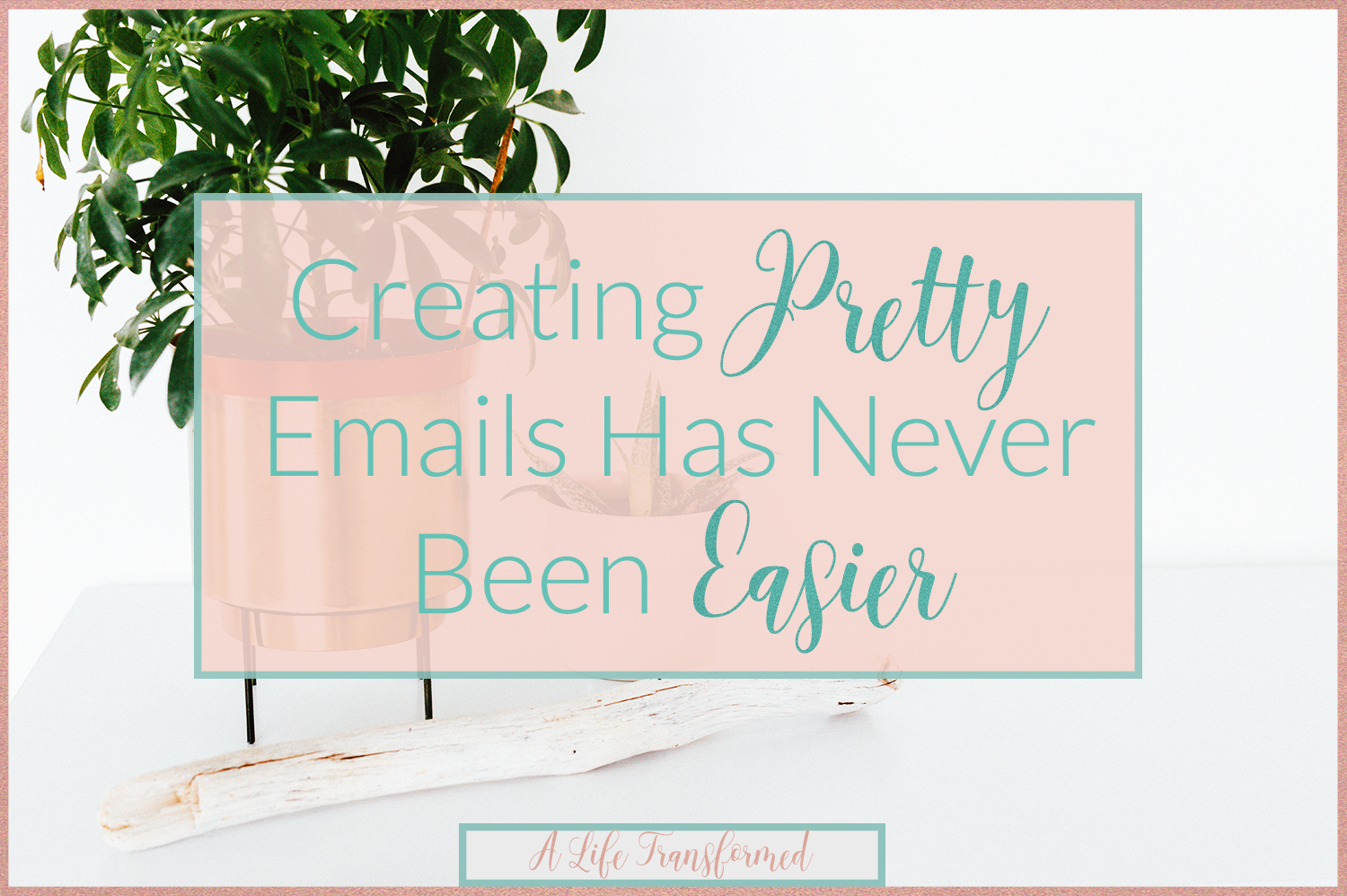 1) Drag + Drop Design
Mailerlite makes creating email campaigns easy + beautiful with their drag + drop editor. With so many options in the editor, it is simple and easy to customize your emails just the way you want with total ease. You can customize colors, upload your own photos to use, and more using the drag + drop editor!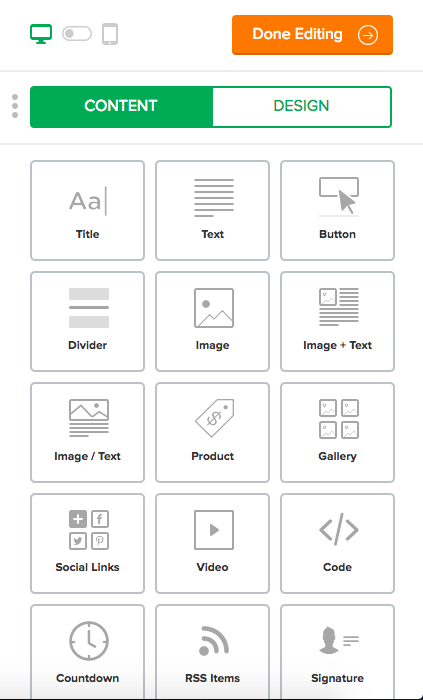 2) Automation of Workflows
Not only is it easy to create beautiful emails using MailerLite, you can automate your workflows as well all for free for up to 1,000 subscribers! Life is pretty busy and we have lots to think about. Our emails getting sent out on time shouldn't be something we should worry about. All you have to do is simply click workflow from the menu, then select the big orange button on your screen that says "create workflow" and go from there! It really is that simple.
3) Create Landing Pages fo' Free!
Oh the power of a landing page! If you are wanting to capture emails and engage your readers outside of your blog or website, then landing pages are such a great tool for you to use! Both pretty and very effective, landing pages help you collect emails in a fabulous way. With MailerLite, you can create a gorgeous landing page for your blog or business without spending hundreds of dollars. And, it is super simple to create and implement on your site.
4) It's Free for Up to 1,000 Subscribers + Affordable
Very few email platforms offer their service for free for up to 1,000 subscribers. As someone who is still growing in the email department, this is huge! The best part is, that with the free service, you get the exact same benefits as you would with the paid versions–unlimited emails! And if you have between 1,001-2,500 subscribers, MailerLite is super duper affordable starting at just $10/month when you get a little over 1,000 subscribers. If you are on up to 45,001-50,000 subscribers, it is $140/month.
5) Create Embed Forms with Total Ease!
If you would like to place multiple signup forms in different areas on your site, MailerLite makes is super easy! Easy to use and easy to create, creating embed signup forms have never been easier to implement. You don't even have to know any code for this, because MailerLite does all the legwork for you. All you have to do once you get your form finished, is copy + paste the code given you wherever you want it to go on your site!
---
Though this isn't an extensive list, these are the top reasons why I love and use MailerLite instead of MailChimp. It was honestly the best decision and I am loving their platform and have absolutely no regrets! It is super simple, easy to understand, easy to use, and you will have a beautiful email crafted in no time at all. On MailChimp, it often took me hours to create an email campaign, and the majority of that time was spent researching what the terms meant on MailChimp.
Even still, after all the effort it took to create an email campaign with MailChimp, my emails were still less than ideal for what I was wanting. But with MailerLite, it takes me all of about 5 to 10 minutes to create an email that is beautiful and everything I want! Emails have the power to create an entire online community in which you can connect with others on a different level. The process shouldn't be complicated and you should enjoy what you do! Let MailerLite help you create the best emails you can while you focus on other things. Check it out today, and let me know what you think!