DISCLAIMER: I received this book from B&H Publishing in exchange for an honest review. I was not required to write a positive review. Want to be a B&H/LifeWay blogger too? Apply at bhbloggers.com.
---
IMAGINE hearing your physician tell you that chips and queso contain more nutritional benefits than kale and quinoa.
In her new book, The Sacrament Of Happy: What a Smiling God Brings to a Wounded World, Lisa Harper unveils a similarly extravagant, unexpected surprise, declaring that happiness is a gift from God that we can unashamedly enjoy.
Wearing the twin hats of both seminarian and belly-laughing adoptive mom, Harper builds upon solid theological scaffolding for happiness in a warm, vignette style. She dismantles the old-school idea that joy, not happiness, is the truly spiritual emotion of the Christian family and asserts that Christ-followers are actually called to happiness…to such a deep conviction in the unmitigated goodness of our Creator-Redeemer that we are free to feel and express genuine joy, fulfillment, and contentment, regardless of personal and global tumult.
Harper's personal story includes such happiness killers such as sexual abuse, the death of loved ones, and heartbreaking failed adoptions. Yet she writes on themes like:
"The lost sacrament of laughter"
"Happiness is not the absence of sadness"
"Tuning out the Pharisees who try to mute your happiness in the context of spiritual maturity"
This book goes well beneath most people's surface understanding of happiness, gently guiding readers closer to the heart of God…with naturally a few genuine guffaws to enjoy along the way.
---
When we initially think about happiness, what are the first things that come to mind? Our relationships, jobs, financial stability, family, etc. are usually things we measure happiness by. However, Lisa Harper completely shatters the idea that happiness is found in the things we possess, but rather, deeper and more satisfying happiness is found in Someone else instead.
Upon reading just the first couple of pages in this book, I was belly-laughing myself at some of the things Lisa has experienced. I will not spoil it for you, but I will say that reading this book will make you laugh! And in the process, your mindset about happiness will change. This book is filled with scripture that talks about happiness, and how is truly is a gift from God! I don't think I have ever viewed happiness as a gift of God until reading this book. Too often, I think we view God as someone who always has a scowl on His face, just waiting to punish us for messing up. In reality though, God is loving and patient and kind. He is the author of EVERY emotion that we feel–including happiness. I think it would do us well to remember that we were made in the image of Christ, meaning that we resemble Him in a lot of ways. Because of this, we should know that every emotion we feel, God feels too.
[Tweet "Every emotion we feel, God feels too. He's the author of them!"]
One of my favorite things about this book, was how Lisa put it that "While God doesn't need us to be happy, He chooses to include us in His joy". Wow! That is completely true and also completely shocking. To me, this shows just how much God loves us. He doesn't need us for anything–much less joy–but He chooses to include us. We are chosen, friends!
[Tweet "God doesn't need us for anything–much less joy–but He chooses to include us in it!"]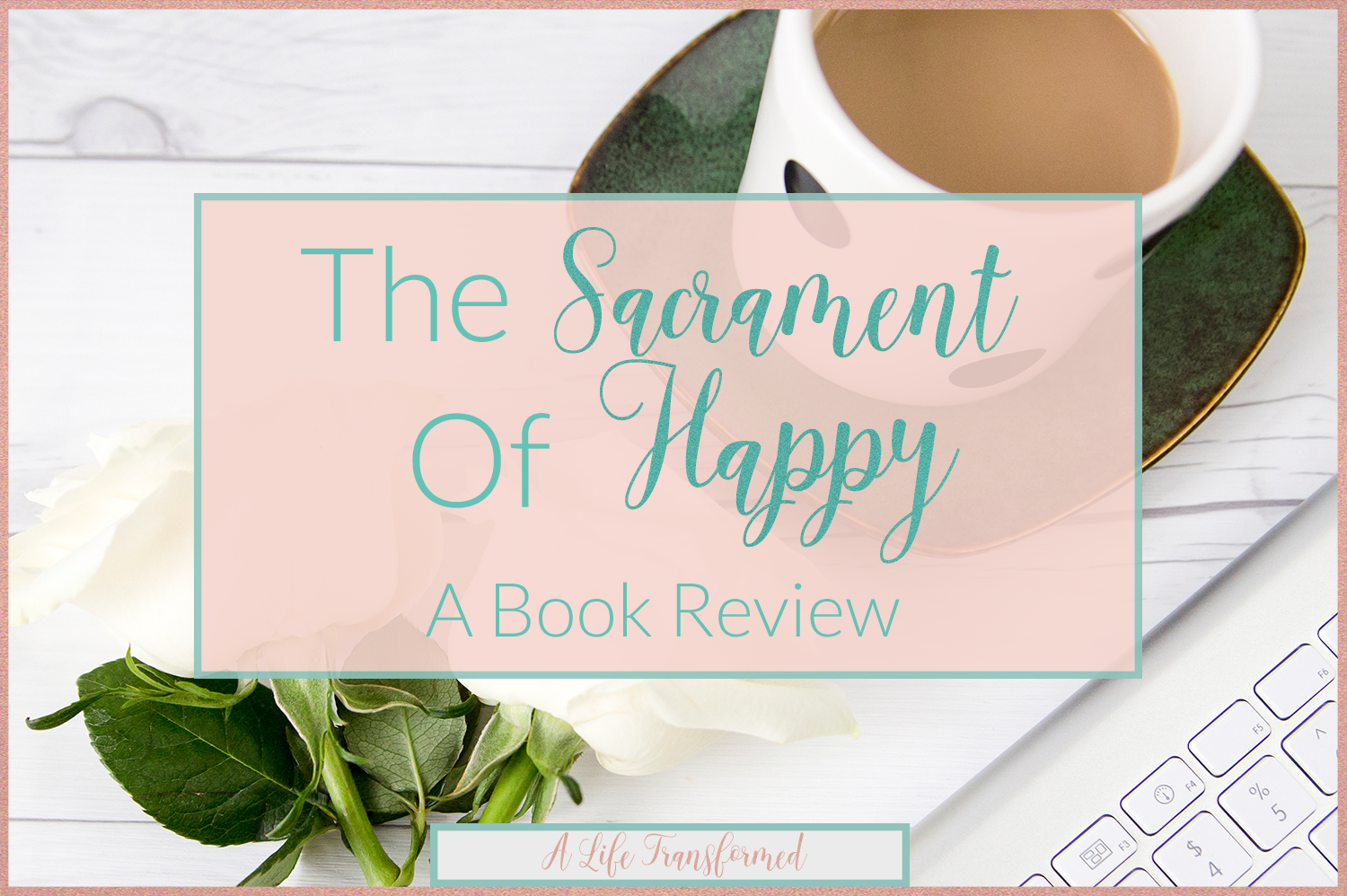 Continuing right along with being chosen by God, Lisa hits the nail straight on the head when she says:
"God chose us. The King of all kings, who is perfectly content, fulfilled, and self-sufficiently happy, chooses to include us in His glorious joy, He leaned down from glory not because He needs us but because He wants to be with us. He picked us to be part of His good pleasure".
Holy wow, ya'll! I don't know about you, but this completely slaps me in the face! How selfish of us to think that God needs us for anything. He could do whatever He pleased without us. But because of His great love, He chooses to use us. God chooses to be with us. He chooses to let us be a part of HIStory.
[Tweet "Because of God's great love, He chooses to use us. God chooses to be with us. He chooses to let us be a part of HIStory. "]
True happiness is something we can't achieve on our own apart from God. Because true happiness isn't found in anything here. True happiness is found in Christ because He satisfies us–nothing else in the world can do that. Here is another little nugget of truth from Lisa in this book:
"We can't instigate or impel divine happiness, nor can we lose or lessen divine happiness. God's joy is self-generated and sustained with and through His Spirit and His Son. So when we put our trust in Jesus and receive the accompanying infilling of the Holy Spirit, we become heirs of His divine delight. We are grafted in, so to speak, chosen to be the apple of God's eye and beneficiaries of His good pleasure".
This book has forever changed the way that I view happiness and has most definitely given me a more spiritual perspective of it! My how different our lives would be if we thought more like this! Lisa's story is incredible, and I hope to learn to be truly happy the way that she is and radiate joy regardless of what this life throws at me.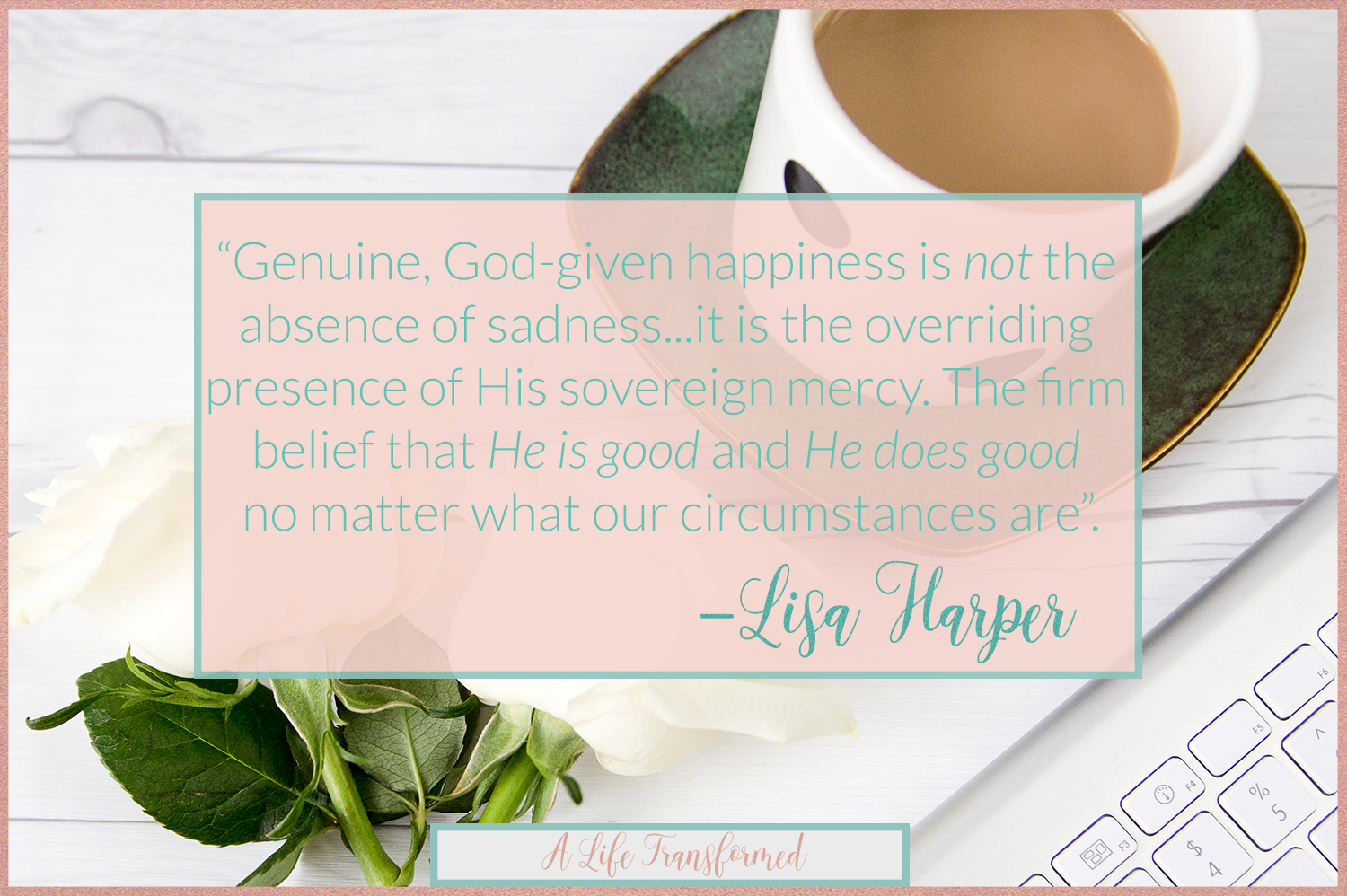 There is so so much truthfulness, encouragement, and all kinds of happiness woven in this book. And Lisa points in all back to Jesus as the satisfier of our happiness and our souls. In order to be truly happy and truly satisfied no matter what kinds of circumstances we face in life, we first need to be truly satisfied in Jesus before He can give us the deeply satisfying happiness that Lisa writes of.
I wasn't entirely sure what to expect when reading this book, but I can say that it has completely blown me away. With the raw and sometimes painful stories Lisa shares, and getting to see her genuine happiness in spite of the terrible things she has faced, it is clear that her happiness is rooted in Christ. Before this comes to an end, I'd like to leave you with just one more nugget of truth from this amazing book:
"The key to hanging on to our happy–our deep sense of fulfilment, contentment, and delight–when horrible things happen is to recognize this: Real, God-imbued happiness is not in the absence of sadness or badness. Rather, it is the hanging on to the truth of His sovereign goodness regardless of what's going on within or around us".
I strongly urge and encourage you to go get this book and read it. It has completely transformed the way that I think about happiness, as well as the way that I view God. It is so full of truth as well as some humor and is so very worth the read! If you are near a LifeWay, this book is on SALE right now for $12.74! Go getcha one at your local store, or click here to purchase online. Go, get a copy of this book and rethink your own definition of true happiness.