Happy Memorial Day, everyone! Before we get started with the pasta recipe, I would like to take a moment to remember and to thank those who have sacrificed their lives for our freedom. Those who have fought, are currently, or will be. Thank you! Your sacrifice for our freedom is appreciated, and doesn't go unnoticed.
I know most of you will probably be celebrating with your families today. My husband and I are doing the same! I have been playing around with homemade pasta the last couple of weeks and really enjoyed it, so I wanted to share with you an easy recipe that you can make! It takes about 20 minutes from start to finish! Now, you can add sides or anything else that you like to go along with this, but I am sharing just the pasta portion. I also used gluten free noodles, but you can use whatever noodles you like!
Memorial Day is a time to reflect and remember, as well as spending time with our families. We celebrate our freedom alongside remembering the sacrifice that was made–and that continues to be made–for our freedom. So, go spend time with your family this day being thankful for the freedom you have to do so because of the sacrifices that were made to make that freedom possible.
Again, thank you to all those who have served our country, those who currently serve, and the ones who will be serving. You have made such an incredible sacrifice, and some have paid the ultimate price to give us all freedom. Let us not forget what has been done today. While we can have fun, eat, and spend time with friends and family, don't forget about the ones who gave you that freedom. Let us not ever take that for granted.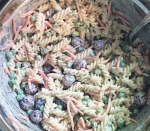 Gluten Free Rotini Pasta
A Delicious Gluten Free Pasta Recipe Perfect for all Your Summer Parties!
Ingredients
1

Box

Ronzoni Gluten Free Rotini Noodles

1

Cup

Mayo

Italian, Parsley, Sea Salt, & Garlic Salt to taste

Cherry Tomatoes, sliced

3

Mini Cucumbers, sliced

Grapes

as many as you'd like

1

Bag

Shredded Carrots

1

Bag

Peas

1/3

Cup

Bacon Bits

1

Tbsp

Olive Oil
Instructions
To cook the whole box of noodles, bring 6 quarts of water to a boil

For the whole box, add 1 tbsp. of salt for taste and to prevent the noodles from sticking

Let cook for about 7-9 minutes. I cooked mine for 8.

After the noodles are done, pour them over a colander and run cold water on them for a few minutes if you want them served cold.

In a mixing bowl, combine the noodles, tomatoes, spices, olive oil, cucumbers, bacon bits, mayo, carrots, peas, grapes or anything else you would like to add.

Stir it all together, and voila!
Recipe Notes
-You can add as much or as little of the grapes, carrots, and peas as you like! I used a whole bag of peas, but you do not have to!
-I also used olive oil on the pasta, but if you prefer vegetable or coconut oil, those will work just as well
I hope that this recipe makes it to your table this Memorial Day! Do you have any favorite recipes for Memorial Day? I would love to add some to my own collection! Share them with me in the comments!
Be blessed today, my friends!