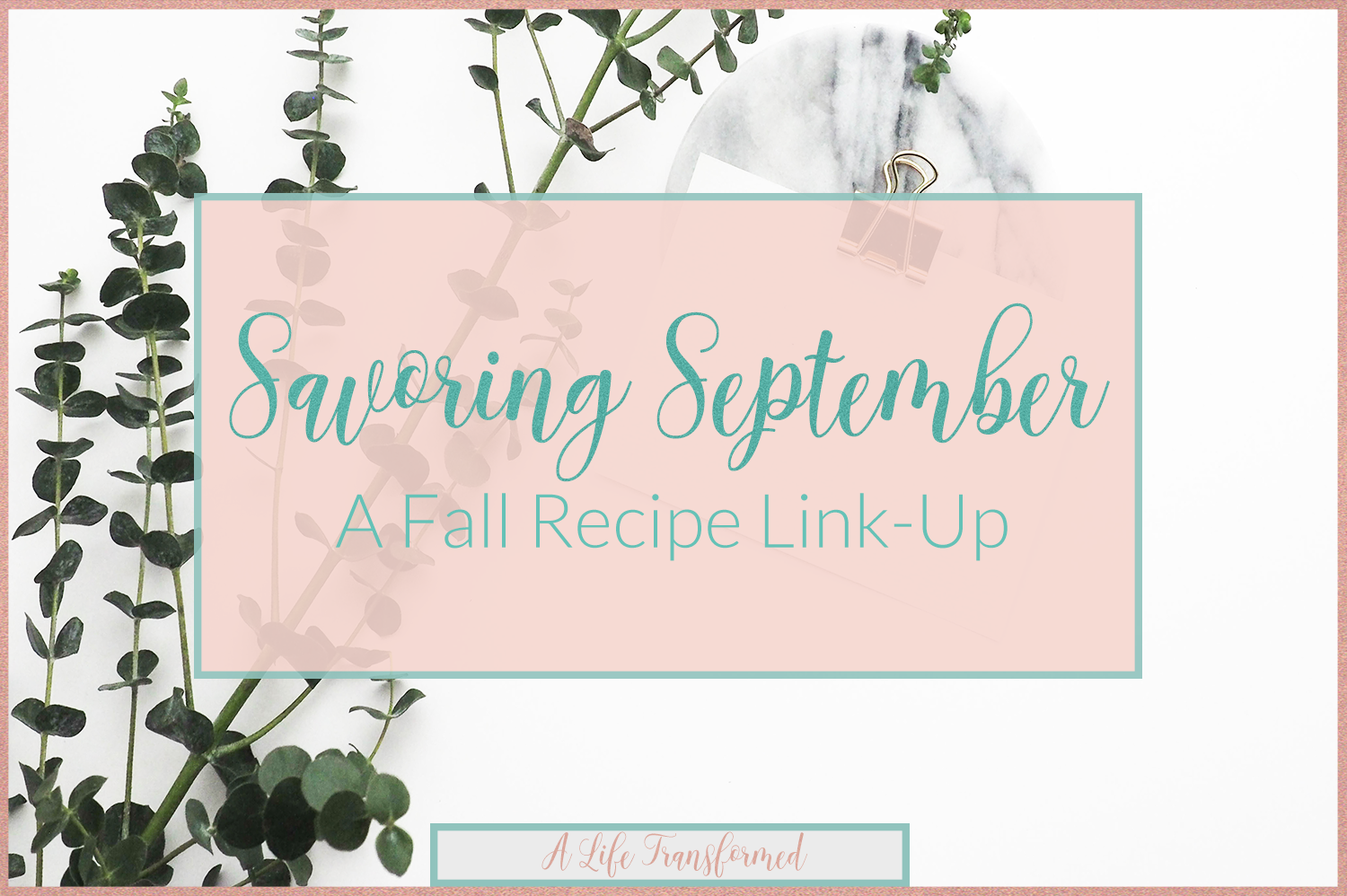 It is hard to believe that September is here! What better way to kick off the rapidly approaching Fall season than with some FABULOUS recipes!? Last week I shared with you my pumpkin pie recipe that I adapted from online, and I just know that you will LOVE the recipe Savannah is sharing today!
So, please give a warm welcome to Mrs. Savannah Payne of The Savvy Plate! I've known her for a few years now, and her blog is absolutely fantastic! She is a fairly new blogger, so click the link above and go show her some love! Today she will be sharing one of her favorite Fall recipes with us and I literally can't wait to add this gem to my recipe book. I hope you all enjoy it too! Now get cozy and let's read about it!
---
Hi there! I'm so excited that Hannah asked me to join you all at A Life Transformed today. I love what happens in this space, and I'm glad to be a guest here! I'm Savannah, and I blog over at The Savvy Plate. When Hannah said she was on the lookout for a fall recipe, I obviously said, "Yes, yes, yes!" It seems like cooking gets so much cozier in the fall. I love that as we transition into cooler weather, we lean toward warmer flavors. Pumpkin, caramel, cinnamon spice, apple… what's your favorite? I'm Team Sweet Potato all the way!
When it's cool outside (actually, let's face it–for me, even when it's the middle of summer), oatmeal is such a great comfort food. I'm actually really hooked on oatmeal; I think I post a bowl of oatmeal to my Instagram nearly every week. I love it with blueberries, but as they fade out of season, I have to start looking for alternatives. Remember how I told you I was Team Sweet Potato? Well, my recipe for you today stars two of our cool weather favorites: sweet potato and oatmeal!
To be completely honest with you, this oatmeal is like having dessert for breakfast. That's okay every once in awhile, right? When I throw in two and a half cups of oats, I feel like I'm doing good, healthy things for my heart, regardless of how much sugar and butter I included. Usually I like to sweeten my oatmeal with just a little bit of honey and fruit, but sometimes it's nice to go all out and bake yourself the oatmeal equivalent of sweet potato casserole for breakfast! (And if you want to throw some marshmallows on for the topping, go for it. You do you.)
My husband and I managed to get a good six or eight servings out of this recipe, so it's a great size if you're looking for a Saturday morning breakfast for the family. It also keeps well in the fridge, so if you're not sharing with many people, it's nice to make some at the beginning of the week and have ready-to-serve breakfasts (or desserts) for a few days. Ready to try it out? Grab your apron, and let's do this thing!
Sweet Potato Baked Oatmeal
"A Delicious Fall Twist on a Breakfast Favorite!"
Cook Time
1
hour
15
minutes
Total Time
1
hour
35
minutes
Ingredients
1 1/4

Cup

Cooked Sweet Potato

I used two medium-sized sweet potatoes. To cook them, I wrap mine in foil and bake them at 400 for 45 minutes to an hour.

1

Cup

Milk

2

Eggs

1 1/2

Tsp

Vanilla Extract

1/4

Cup

Melted Butter

2 1/2

Cups

Old Fashioned Oats

2

Tsp

Cinnamon

1/3

Cup

Sugar

1/2

Tsp

Salt

1/2

Tsp

Baking Powder
For The Topping:
1/4

Cup

Chopped Pecans

2

Tbsp

Melted Butter

1 1/2

Tbsp

Brown Sugar
Instructions
Cook your sweet potatoes, and allow them to cool for 10-15 minutes. (This is a great time to get in the spirit of fall and count your blessings and things you're thankful for.) Remove the skins.

Add the sweet potato to a blender with the milk, and blend. Not only does this give you the puree that you need, but the cold milk also helps cool the sweet potato. This is important to do so that our eggs don't scramble when we add them in!

Add the eggs, vanilla, and melted butter to the blender with the sweet potato puree, and blend again.

In a mixing bowl, combine oats, cinnamon, sugar, salt, and baking powder.

Add the wet mixture from the blender into the bowl with the dry mixture, and combine.

Pour the mixture into a greased 8x8 glass baking dish and bake at 350 for 20 minutes.

Combine the ingredients for the topping, spread over the baked oatmeal, and bake for another 10 minutes.

Serve immediately or refrigerate leftovers to reheat later. Enjoy!