Sacred Holidays | A Book Review
Holidays can be such a stressful time. I am sure you can relate! This book, Sacred Holidays offers practical tips + resources to make the Holidays better with less chaos, more Jesus! Full review below.
DISCLAIMER: I received this book from B&H Publishing in exchange for an honest review. I was not required to write a positive review. Want to be a B&H/LifeWay blogger too? Apply at bhbloggers.com.
---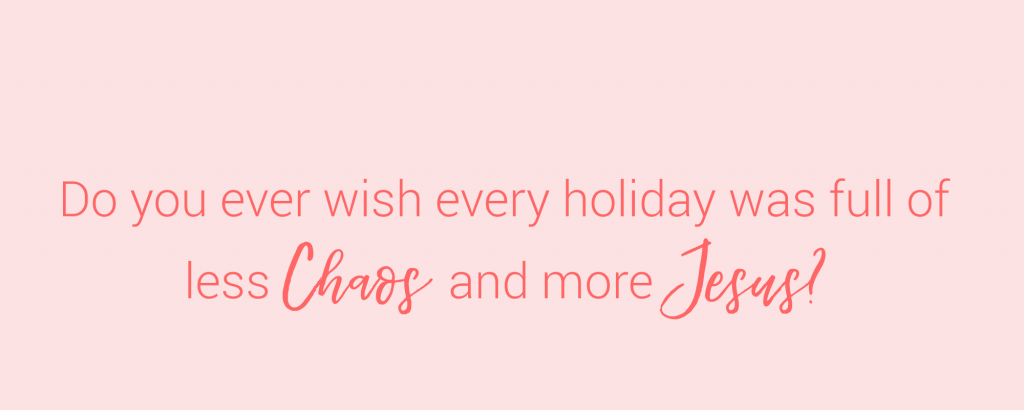 We set New Year's goals we can't keep, struggle to love or be loved on Valentine's Day, and find it hard to celebrate the risen Jesus when we are searching for the perfect Easter dress. Our summer and back-to-school seasons are whirlwinds, even as adults. We aren't quite sure what to do with Halloween as Christians. We feel less than grateful at Thanksgiving because it is sometimes full of complicated people. Even Christmas becomes a challenge as celebrating Jesus gets lost behind twinkling lights and and a mountain of gifts.
Holidays are meant to be more than chaos with glimpses of grace––they are meant to draw us closer to God and one another, but often life is so busy that setting a game to plan just doesn't happen. Sacred Holidays is part book and part resource, meant to help you avoid what has tripped you up in the past and give you insights, tips, and tools to make your holidays less chaotic and more meaningful.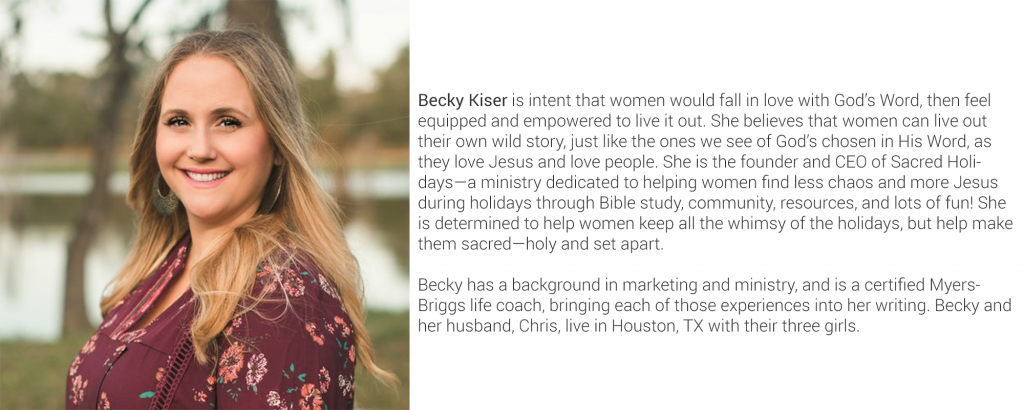 ---
I think as women, it is completely relatable when we say that Holidays are really overwhelming and stressful. I think we also understand what it means when we say that viewing the Holidays as "sacred" is something that we rarely, if ever, do because we are more focused on the to-do list than we are on being able to enjoy the holidays.
This book does a phenomenal job of not only providing tips and tricks on how we can effectively make our holiday's less chaotic with more Jesus, but takes it a step further and includes built-in resources for you to document the ways you want to change how you do holiday's and refer back to this book each holiday as a reminder.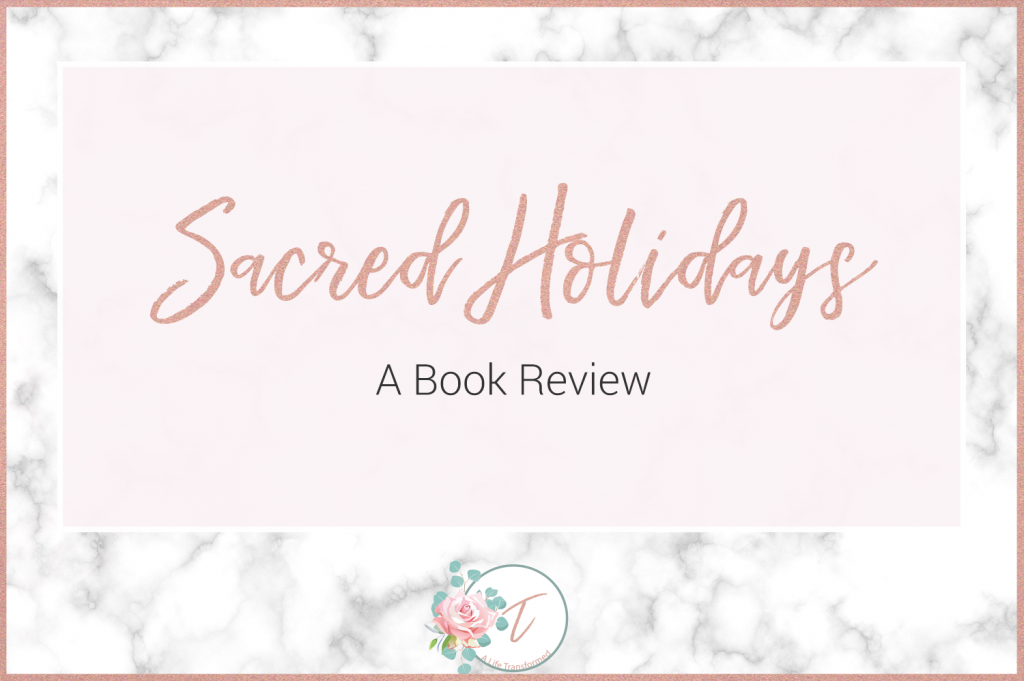 Sacred Holidays is meant to be read 30-60 days before the holiday. There are spaces provided for each holiday such as: New Year's, Valentine's Day, Lent and Easter, Summer, Halloween, Thanksgiving, Advent and Christmas, and Happy Birthday.
In addition to being a resource, part three of this book deals with the most common struggles we all face during the holiday season that you can read as you need to. These struggles include: How to Not Be THAT Christian, Realistic Expectations; Conflict, Drama, and All the Feels, Budgets and Generosity, Schedules and Plans, Grief, Santa and the Easter Bunny, Be Yourself and Be with Others.
My favorite aspect of this book, is that it isn't just a book to be read and then set aside to collect dust on a shelf. Rather, it's a book that in my opinion combines the best of both world's: being a book of raw truth from the author, but also a resource to use and refer back to.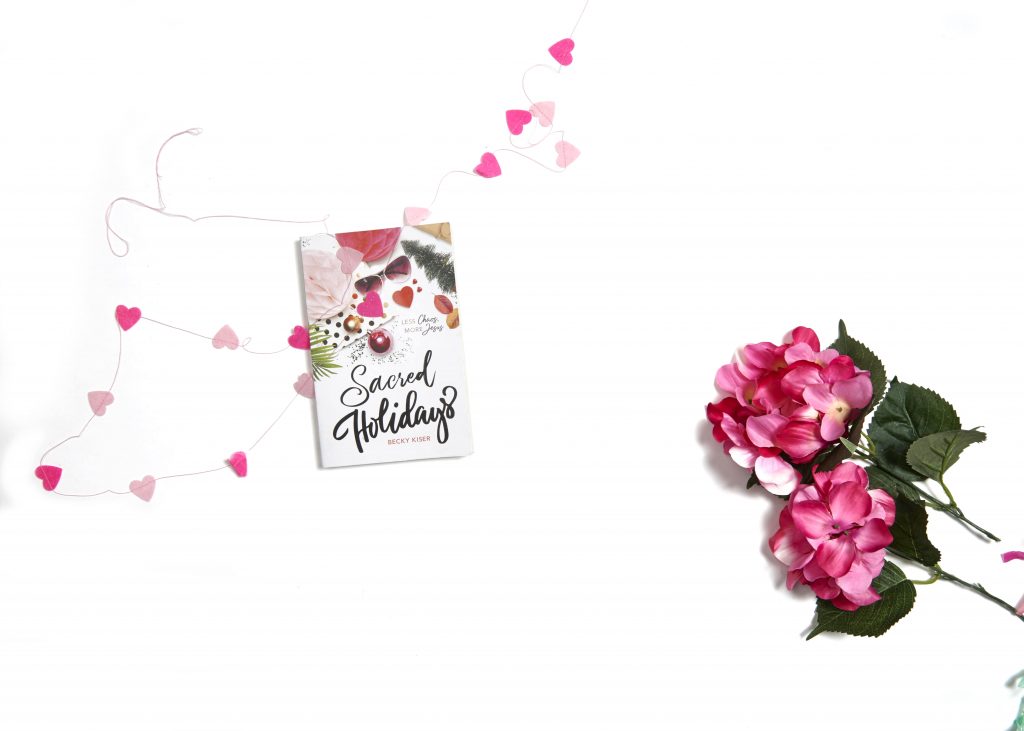 This is such an important thing, especially with the Holidays. If we are to make any changes to how we do Holidays, it won't be something that comes naturally or easy for us because of how society has trained us to celebrate Holidays.
So, having a resource such as this book that not only offers advice, but also acts as a resource for you to make a game plan that you can refer back to year after year and Holiday after Holiday is solid gold to me.
Something else that I love about this book, is how candid Becky Kiser is when it comes to the reality of most Holiday's. In the very first chapter, she talks about her own regrets, how she chose better ways, and the baby steps she took to get there and how you can too.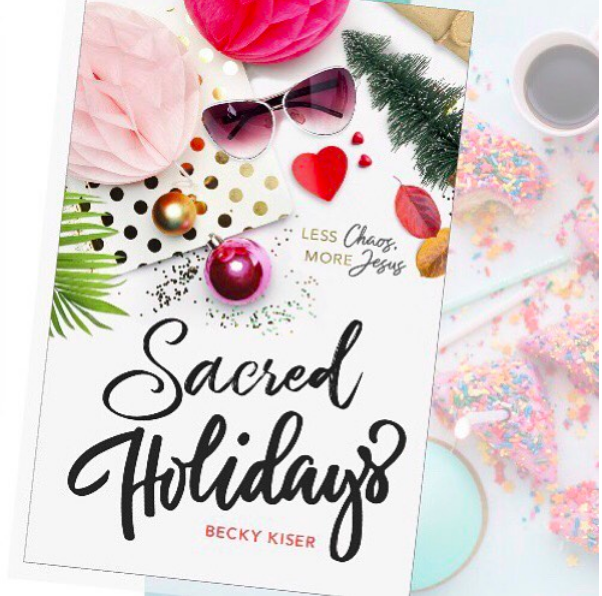 I highly recommend this book to everyone who feels their Holiday's are crazy and who want less chaos and more Jesus in their Holiday seasons. It is such a great book to not only read and enjoy, but a great resource as well so that you can not only create a great Holiday game plan, but implement it as well into your Holiday routines. This book is available through LifeWay or wherever books are sold. For those of you who want this book, but are too busy to read, there's an audio version here as well as on Audible!
Tell me below, what are some of your own struggles in the Holiday seasons? For me personally, I always struggle with perfection and feeling like everything has to be "just perfect" before I can enjoy the Holiday's. Do you relate?