Quarter 4 Goals + A Recap
Happy October, friends! This year is almost finished and honestly, it's flown by so fast. Each year goes by faster and faster it seems and sometimes it's hard to catch a breath cause there's so much happening. I am a couple weeks behind on this post because I went on vacation and it completely slipped my mind to post my quarter 4 goals, but it's happening today!
I'm excited to recap my progress over the last three months and see how I did, but also to create new goals to work towards the remaining quarter of this year. I've noticed by switching to quarterly goals that the goals I am setting are more attainable because I am giving myself more time to accomplish them without the pressure of doing goals each month. Not to mention, each new quarterly set of goals will be so different! So grab a cuppa your favorite brew and let's kick back and recap.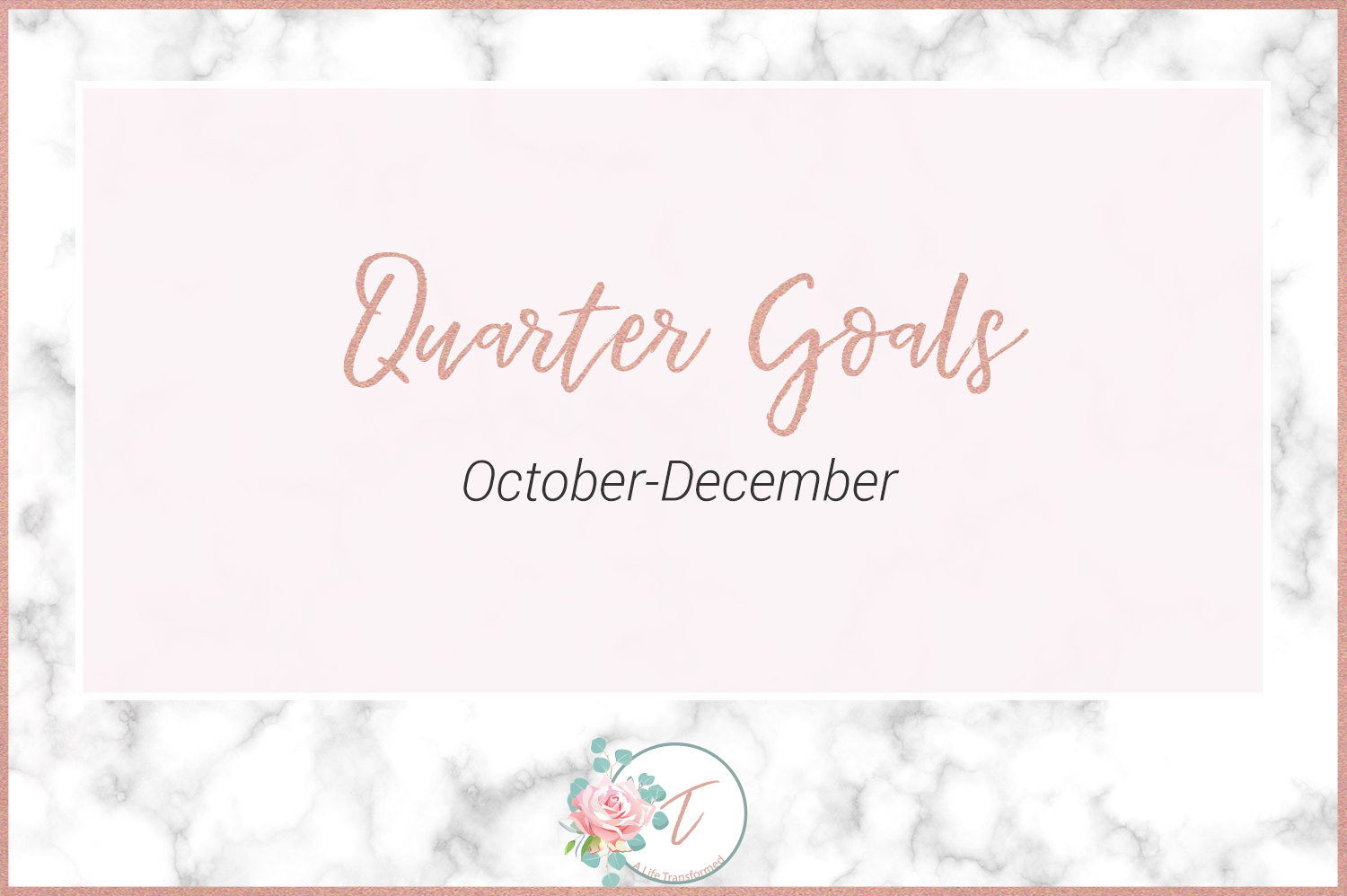 Quarter 3 Goals | A Recap
BLOGGING:
1. Create & maintain a content + social strategy
This one is a serious goal I am adamant about doing. To be successful as a blogger, you have to, have to, HAVE TO have a plan. No more sitting idle for me, I am gonna make it happen.
2. Open up a shop
This one has been a goal of mine for months now, and I recently revealed so in this post and why. It's already in the works, but as things typically go when you host yourself, my site is having some issues with a plugin and that's getting fixed. But, it's gonna happen.
3. Grow my social following
I am going to research strategies on how best to achieve this, but my main focus is growing organically. If you want to follow along, the links are at the end of this post and in the sidebar!
PERSONAL:
1. Lose 10 lbs and get toned
This one is hard, as I really hate exercise. However, I know this will be good for me and make me overall healthier and happier. So far, my husband and I are riding bikes in the evening and this should help!
2. Take a much needed vacation
This is actually already in the works, and I could not be more excited! I really need some time away from life things and all the hustle and bustle to relax and recharge.
3. Work through some emotional stress
As a female, I have crazy emotions as it is. But, I also have a lot of unresolved emotional issues that I need to work through. So, the next few months, I am going to work on that to be happier and healthier.
How'd I do?
1. BLOGGING: Create & maintain a content + social strategy
I have definitely improved on this one by leaps and bounds. And it's all thanks to some great apps I've started using to up my social game. I even wrote a post about which ones recently so don't miss it!
1. PERSONAL: Lose 10 lbs & get toned
I'm laughing at myself for even making this a goal lol. I literally GAINED 10 pounds instead of losing them. I learned it was partially because of the medicine I was taking, but still. Oh well, I am trying so it counts for something. 
2. BLOGGING:Open up a shop
This one is actually in the works now so it's an improvement! I am really excited about this big step, and I am hoping to have a launch date real soon! I've been a tad busy so I haven't been able to work on it as much, but it is coming along!
2. PERSONAL: Take a much needed vacation
Oh absolutely! This happened the last week of September and my family and I went to Orange Beach, AL and stayed in a really nice condo for the first time ever. It was so needed, and we all enjoyed ourselves so much. Hopefully soon I'll get around to blogging about our trip!
3. BLOGGING: Grow my social following
I haven't really dedicated as much time to this as I would have liked to, but it will be one of those continuous goals for me I think. Honestly, the whole following game has been somewhat of a drag recently. Growing organically is hard, but I am still choosing to do so to cultivate a community of people who are genuinely interested in me, my blog, and my content without having to bribe them or pay for them.
3. PERSONAL: Work through some emotional stress
I have definitely been working on this one. I've got back into playing guitar fairly regularly as well as journaling again and both have helped me tremendously. We all go through rough patches, and self-care is important when we do so that we can remain emotionally healthy. 
Quarter 4 Goals
BLOGGING:
1. Pick a launch date for the shop
Not gonna lie, that part slightly overwhelms me. But, this will be a good thing to do! It also motivates me to put more products in there so that I have enough to fully launch.
2. Start budgeting for ads
Now that I am working again, I did an experiment with Facebook's bribery of a $15 credit for ads and ran a couple of them. In case no one told you, they DO work and I've seen the proof in the numbers. So, with that said, I am going to budget to do some more in the future in hopes it helps me in my overall mission with this blog.
3. Start being a bit more vulnerable
This one I know will be pretty hard in the beginning, but my hope is that God will use my vulnerability to minister to others. It's so easy to put on a façade in this world of social media of how you want people to perceive you when in reality we all struggle with things and we need to start showing others that side of us too. Life isn't pretty styled pictures and perfectly worded captions. It's messy and we shouldn't be afraid of what others will see cause they're in the same boat we are. 
Life isn't all pretty styled pictures and perfectly worded captions. It's messy!

Tweet
PERSONAL:
1. Practice being patient
If I'm brutally honest, I am very much the opposite of a patient person. Slow drivers? I am incredibly impatient. Technology problem? I tend to scream at the computer. So it's safe to say I need to practice being a little more patient. I will make it my goal to work on my patience instead of letting my patience work on me.
2. Watch less TV
Okay, so this one is going to be mighty hard. If you know me, you know that I am literally obsessed with TV police dramas. It's literally all I watch. I have this bad tendency to binge-watch an entire season in one sitting which is not only bad for my eyes and brain, it's bad for my productivity. So, I am aiming to scale back to only watch one episode a day! 
3. Remember my worth
In the world of social media, I often find myself falling victim to the comparison game that leaves me crippled in fear & doubt. I'm making it a goal of mine to remember that I am chosen, loved, & accepted by God and that the only "status" that matters is that of my heart which Jesus has already captivated. When I remember Whose I am, everything else seems to not matter so much.
So there are my goals for the remainder of the year. I feel like I accomplished so much with my last set of quarter goals, and I have high hopes that the same will happen this time too. I look forward to getting to work on these the next few months.
What are some goals you hope to accomplish the last quarter of the year? Lemme know in the comments below!