Never Unfriended Book Review:
---
DISCLAIMER: I received this book from B&H Publishing in exchange for an honest review. I was not required to write a positive review. Want to be a B&H/LifeWay blogger too? Apply at bhbloggers.com.
---
Never Unfriended: In a world where women can unfriend each other with the swipe of a finger, how do we find friendships that we can trust to last? Maybe by first becoming those kinds of lasting friends ourselves.
As the community manager at the website www.incourage.me since 2010, Lisa-Jo Baker has had the chance to engage hundreds of conversations with women about friendship. She's learned that no one can make us quite as unsure about ourselves as another woman. And nothing can wound as deeply as unkind words from a friend. While we are all hungry for friendship, it's the fear of feeling awkward and being rejected, left out, or hurt (again) that often keeps us from connecting.
BUT WHAT IF WE KNEW WE COULD NEVER BE UNFRIENDED?
Would we risk friendship then?
Starting with that guarantee from the most faith friend who ever lived–Jesus–this book is a step-by-step guide to friendships you can trust. it answers the questions that lurk under the surface of every friendship–What are we afraid of? What can't we change? What can we change? And where do we start?–with personal stories and practical tips to help you make the friends, and be the friend, that lasts.
---
Friendship is one of those deep, meaningful things that we deeply crave; but sometimes just can't figure out. We know more about how to be an acquaintance, than how to be a true friend. A friend that can be counted on, who loves, who always prays for the other, and who can handle friends at their best and at their worst. A friend who is always there.
Never Unfriended candidly talks about the struggles each and every one of us faces in friendships. As women, we can be the most intimidating, hurtful, and harmful when it comes to friendship. We have this sense of entitlement, that our friends need to measure up to our own standards. The truth of the matter is though–if we are honest–is that no one is capable of meeting that standard. So, we need to work on ourselves instead of trying to work on others.
Lisa speaks candidly about her own struggles with friendship, and the lessons that she has learned. She also speaks about the steps you can take to become a better friend, by learning from the Ultimate friend, Jesus, through His Word.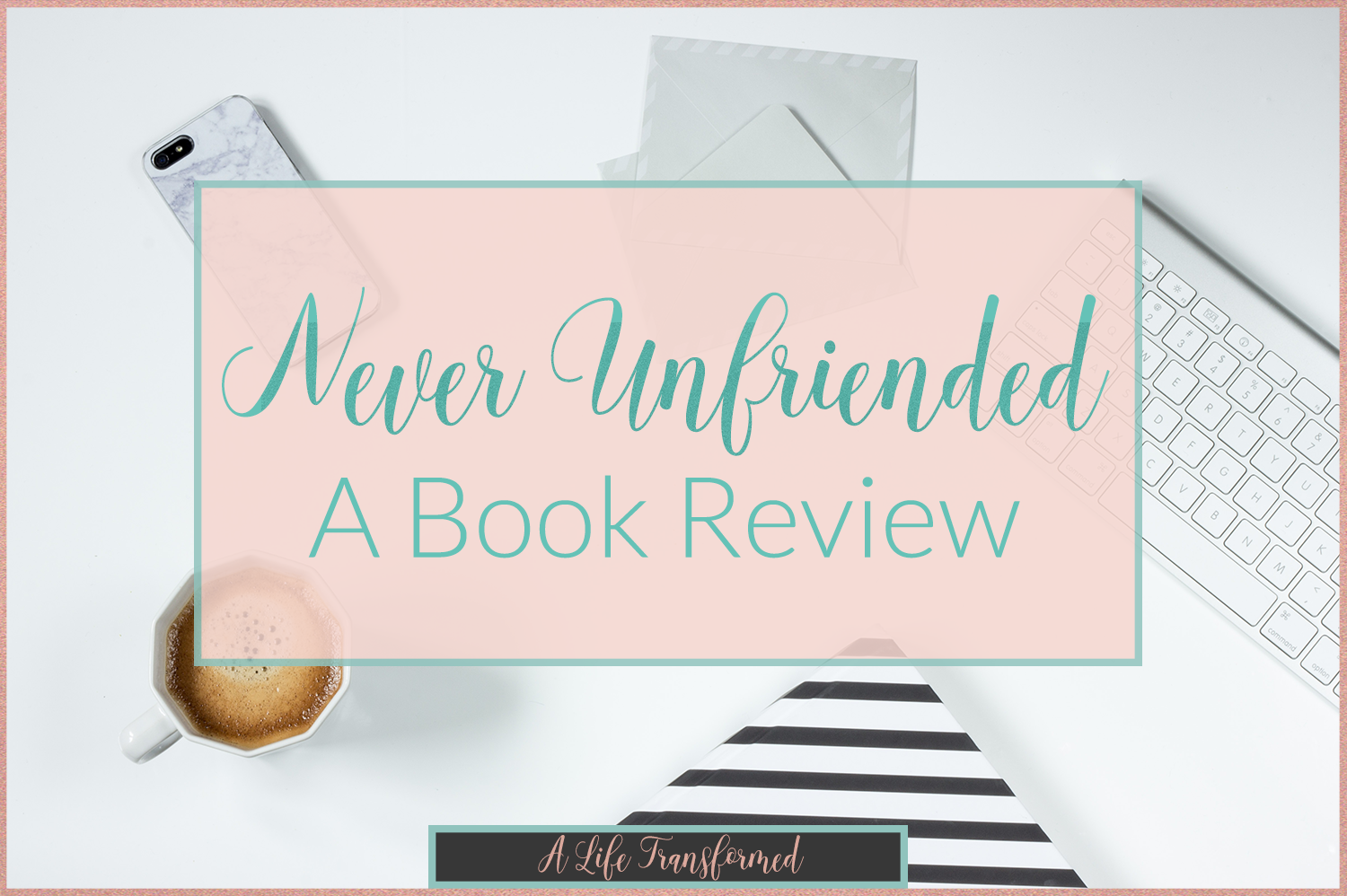 This book was slapping me so hard in the face with a 2×4 as I read it. It gave me a fresh perspective on what it truly means to be a friend. I could relate to Lisa-Jo's struggles when she talked about comparison. Her words were beautiful, and raw, and real. Full of emotions, and trial, and triumph, and lessons learned. Being a friend is a lot more than just company. It is being there through the ugly, the hard, the messy. When things are good, and when they aren't. It's listening more than talking. It is showing up.
[Tweet "Being a friend is more than just company. It's being there through it all, listening more than you speak, and just showing up."]
Before we are able to make lasting friendships that a meaningful, we first need to learn how to be that friend instead of waiting for someone else to do it. Oftentimes we look at friendship as more of a chore, than a joy. We were meant to be in community with each other. We women like to have things our way, and will push people aside, and be mean (even if we don't realize it) to get what we want.
One of my favorite lines in the book was this: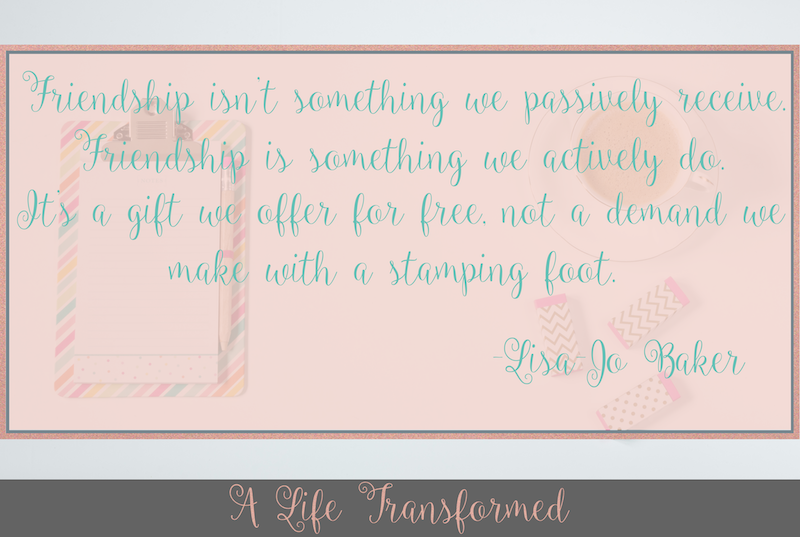 How beautiful is that?! I want that kind of friendship. I want to be that kind of friend. I want to take the risk. Because, Jesus wants us to have meaningful relationships! He wants us to be the kind of friend that He is to us! Through our friendships like this, we can show God's love and grace to the world in a beautiful way and manifest His love through intimate friendship.
It will be hard, and messy, and sometimes painful, but oh so very worth it! I encourage you, if you are longing to know more about how to be a better friend and what that takes, then this book is for you!
All of us could use a little dose of authenticity in our friendships and learn how to be a friend, so that others can do the same! If we want something to change, we gotta start with ourselves and look inward before we try to change others. This book was SO worth the read, ya'll!
After reading this book, I am both challenged and determined to become that friend. The one who is trustworthy. The one who shows up. The friend that will be there in everything and not care whether your house is clean, whether you have makeup on, or have showered. They just show up, and help and love you no matter where you are at. Go read it. It will change you in a good way! You can pick up the book here, or wherever books are sold!