Happy May, you guys! I cannot believe that we are nearly halfway through the year already! It feels like it was just January yesterday. Today is an exciting day, because I have a little surprise for you at the end of this post….a giveaway! It is my birthday week, and I will be a quarter of a century old haha! So, to celebrate, I decided I wanted to do a giveaway and there are some lovely bloggers that have partnered with me to make this happen! I can't wait to tell you all about it.
First though, let's talk about how we did on those goals from April. To be honest, I do not think that I marked a single thing off of my list because I have been just so darn busy lately! Oh well, another month means another chance to try and make those goals that we set for ourselves each month!
Before we talk about my goals for the month of May, let's recap the ones from April to see the ones (if any) that I got accomplished last month.
APRIL GOALS | BLOG + PERSONAL REVISITED:
Personal:
1. Work on my communication skills.
-This one is still a work in progress. Communication is sometimes hard, but I am learning!
2. Get better at meal planning.
-Yeah….this one so didn't happen. Maybe in the Summer?
3. Practice positive self-talk.
-This one is also a work in progress. I do it when I remember!
4. Get outside and work in the yard.
-Okay, I have actually done this some! So yay! Yard work can be fun sometimes.
5. Finish the paperwork for UTC.
-Yep! I did this one! Yay! Now I am just waiting on FAFSA to be able to register for classes!
Blog:
1. Come up with a content strategy!
-This one hasn't happened, clearly. Life has gotten in the way, but maybe it will happen in May!
2. Research affiliates to partner with!
-I have done this one! So far, I just have DaySpring & we will see where it goes from there!
3. Create freebies for the blog + newsletter!
-This one is a work in progress. Making printables & other freebies requires time that I don't have just yet.
4. Get better at social media management!
-Again, this one is still a work in progress. Hopefully I can find a good e-course on it! Suggestions?
5. Learn more about taking stock photos!
-I have actually learned a few things! I know I need a light box, and good props for sure!
Woohoo! I got 4 goals marked off the list for April! That is much better than I thought it would be. Maybe I will get to mark more off next month! Now that we have looked at how I did with all my goals this past month, let's look at some fresh new goals for the fresh new month!
Just because we do not get to finish all of the goals that we set, does not in any way mean that we are a failure. Sometimes it may feel like that, but we are not. The Enemy likes us to believe that we are, but God says otherwise. I am reminded of a timely quote from Helen Keller about that! I need to remember this nugget of timely truth more often.
MAY GOALS: PERSONAL
1. Go get my eyes checked.
-Practical goal right here. Ya'll. My eyes are so bad. My night vision especially is just the worst. This is necessary!
2. Help my sister and her husband move!
-They need all the help they can get. Hey, that's what family is for!
3. Try to get some exercise in.
-This has been a goal for a while. I need to exercise more. Anyone have any suggestions that would make it fun?
4. Tackle my project for house landscaping!
-Doing landscaping for the house this month is my one big project! Hopefully I can tackle it all!
5. Attend the Franklin Graham "Decision America" event here in Chattanooga!
-It will be a once in a lifetime experience and hubby and I are making plans to attend!
MAY GOALS: BLOG
1. Create freebies for the blog + newsletter!
-This is a repeat of last month, but I want to try again! I will have more free time once school is out.
2. Get CoSchedule!
-I have been wanting this for a while now to help me manage my social media & content! Maybe this month I can finally afford it!
3. Practice taking stock photos!
-I have been somewhat practicing on Instagram with an aesthetic, and I want to step it up a notch!
4. Plan out content!
-This is a huge struggle for me. I hope to try and get better at planning out + writing content in advance.
5. Freshen up some things on the site!
-Every couple months, I like to freshen up images and things on the site to keep it looking good!
Maybe, maybe, MAYBE I will get all–if not most–of these goals completed! If not, I can always keep trying until I do! What goals are YOU planning for the month of May? Do you have anything exciting planned? I'd love to hear about it!
And now, the moment you have ALL been waiting for….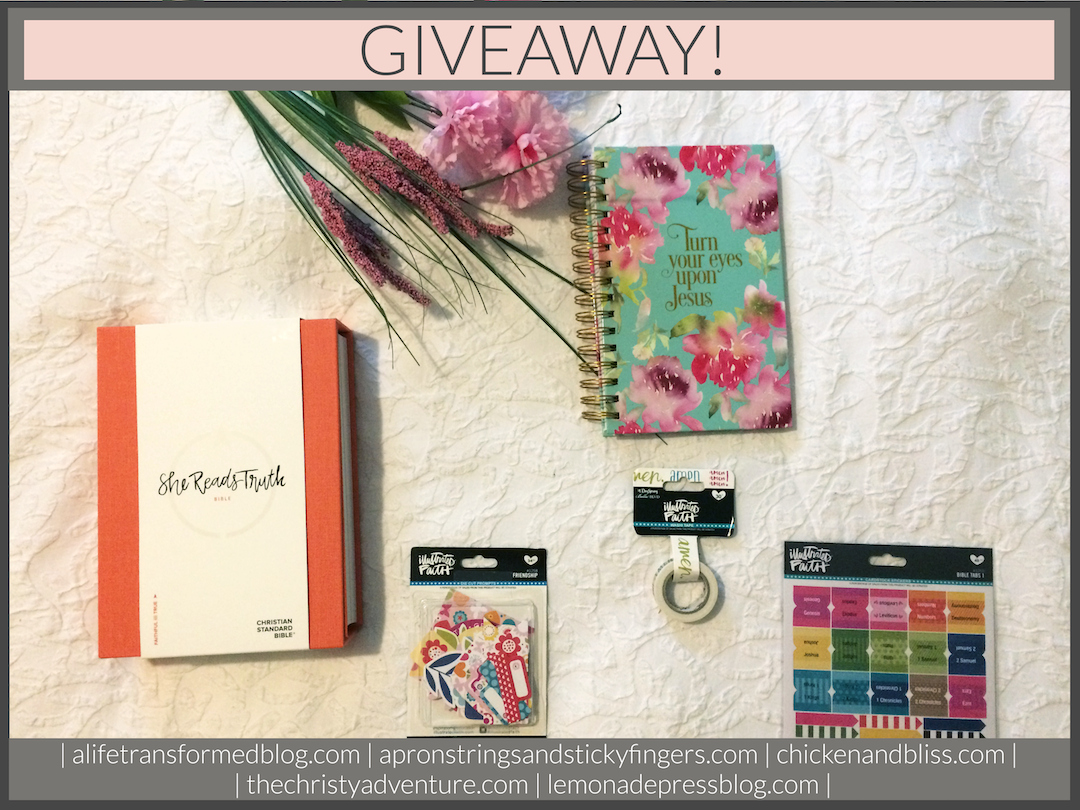 IT IS TIME FOR A GIVEAWAY!
If you know me, you know that I absolutely LOVE the She Reads Truth ministry & Illustrated Faith. Well, She Reads Truth recently released a beautiful CSB Bible packed full of amazing devotions, beautiful hand-lettered art, in the literal and readable CSB translation. I wanted to get this Bible in a lady's hands so she can experience God's Word in a new, refreshing way that is relatable to her! I also wanted to get your creative juices flowing with a few She Reads Truth Accessories as well as a journal. I have collaborated with some amazing ladies to be able to bless another lady with all of these items you see above.
Here is how to enter: Complete the tasks in the Rafflecopter entry below! Complete the mandatory ones, or all of them! Whatever you'd like! The more you complete, the more entires into the giveaway you get!
It will run from 5/1 – 5/6 12:00 am EST. Entries will be verified before the winner is chosen on 5/7. There are some tasks that you can do once each day for more entries! Please, please enter fairly and be honest! Do not lie to get entries. If you do, you may be disqualified from any future giveaways that I host.
Good luck to all of you in this! And most importantly, HAVE FUN!
a Rafflecopter giveaway