Happy June, you guys! Summer is officially here, and I am pretty stoked about that! We are officially in the middle of the year, can you believe that!? Only 6 more months of 2017. That is wild! This year is flying so so fast! Last month, I did a giveaway for my birthday week. Let me just say, I was absolutely FLOORED with the kind of response I got from that! I think I will be planning another one here soon!
There were so many things happening in the month of May. I turned 25; my mom, nana, and a few others had birthdays, I became an aunt to the most beautiful girl ever named Evelyn who was born on the 31st, and so many other wonderful things! I can't wait to share the recap of my May goals and then see what June has in store! I have a couple of big things lined up for this blog, and I will talk about those in a bit.
First, lets revisit how I actually did on the goals that I had set for the month of May! Sometimes I do super awesome with them, and other times not so much. That's okay, though! We shouldn't stress ourselves over that. Baby steps!
MAY GOALS | BLOG + PERSONAL REVISITED:
Personal:
1. Go get my eyes checked.
-This one is in the works. My husband has to check on vision insurance first so I don't have to pay as much! ha!
2. Help my sister and her husband move!
-Check. It was such a long, stressful day but we got them moved and their house is lovely!
3. Try to get some exercise in.
-Nope. Still hasn't happened. I still thing about it, so that counts right? I mean, as long as I'm not eating a doughnut and imagining myself working out.
4. Tackle my project for house landscaping!
-It didn't happen last month, but is quite possibly getting tackled this month! Maybe. Hopefully.
5. Attend the Franklin Graham "Decision America" event here in Chattanooga!
-Yep! Ben and I, along with my parents and brother went and it was incredible! I loved hearing The Afters play, and Franklin's message was really great too. Very timely.
MAY GOALS: BLOG
1. Create freebies for the blog + newsletter!
-I haven't gotten around to this one cause my creative juices aren't flowing. Anybody have any ideas?
2. Get CoSchedule!
-I still haven't gotten to get this yet, cause well–life. But, it is still on my to-do list. Or rather, my "to-get" list for the blog.
3. Practice taking stock photos!
-Not yet. I still need to make a lightbox for that! haha!
4. Plan out content!
-This ones is a half and half. Some days I do really great with it, and other days I don't. It is progress though!
5. Freshen up some things on the site!
-I have been doing this one! Woo! Progress, progress!
Well, I got 3 out of 10 completed! That's pretty good. 3 is better than zero! Although I wish I could have gotten more done, that just gives me an extra jolt for this month's goals! Okay, now that we have taken a look at how I did with last month's goals, we are ready to take a look at the goals I have for this month.
When we set goals for ourselves and do not complete them, it is really easy to get discouraged. I know, I've been there! But, we just have to remember that all great things take time. I am telling myself this same truth right now as I pursue blogging full-time! It's not always super easy. The quote below is a good one to remember when we feel like giving up!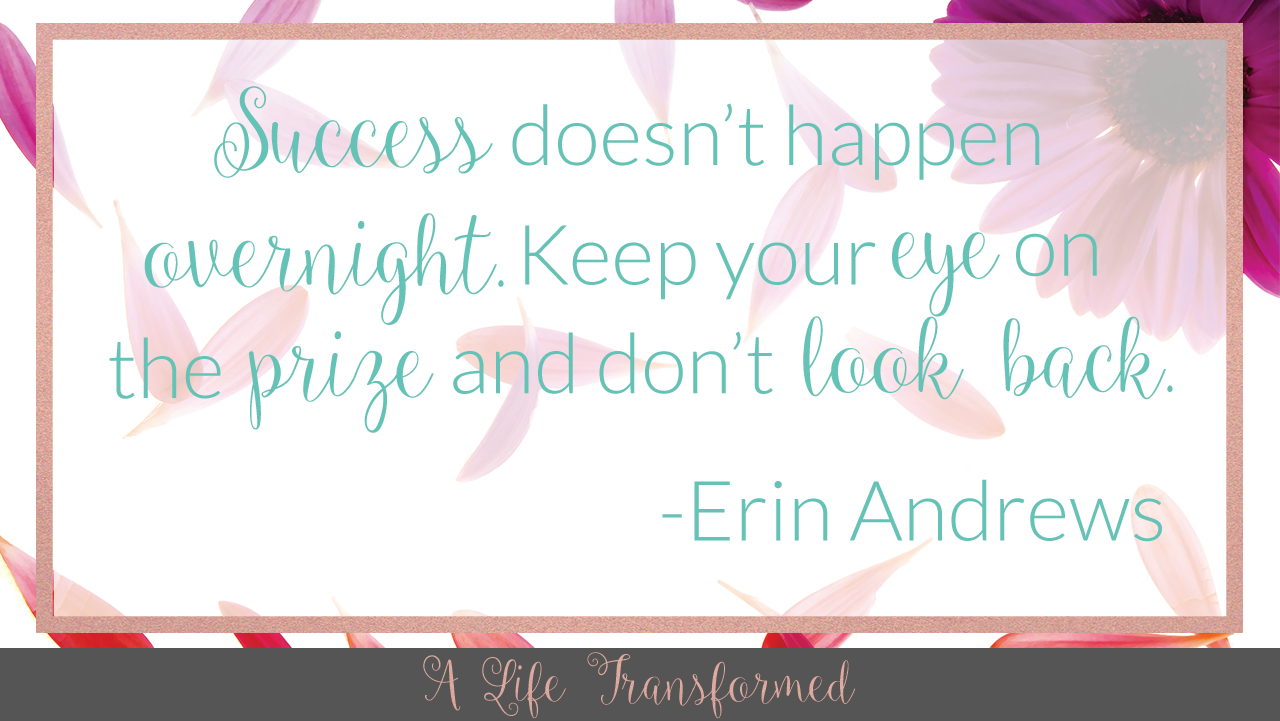 JUNE GOALS: PERSONAL
1. Practice positive self-talk.
-This one is so so hard, but also so so important. I want to see myself the way that Jesus does. There is absolutely nothing wrong with talking positive to yourself. I need to do this one more.
2. Eat healthier.
-You've probably heard me mention this a few times already, but any lifestyle changes are always hard. However, last month when I went grocery shopping, I got healthy food, so that is a start! This next month I hope to take that further!
3. Try to spot clean the house everyday.
-If you know me, you know I am quite a slacker when it comes to cleaning all the time. This month, I hope to try and make a habit of spot cleaning as I go to keep the house tidy!
4. Try to worry less about the little things.
-I'll admit. I am a worrier. It's sad, but true. I often worry about so many little things, and my husband is constantly reminding me of that. So, I want to try to not worry as much about the small everyday things this month.
5. Try to be less selfish.
-If you are out there reading this, I bet you know where I am coming from. Especially if you are married. It is so hard to not be sometimes, but it is something I want to change. I realize though, that I can't change the tendencies of my flesh. That why I want to work more on my relationship with Christ, and let Him change me instead.
JUNE GOALS: BLOG
1. Give the blog a teeny tiny facelift.
-Every once in a while, I like to freshen things up. Keeping things pretty, professional, and user-friendly is a top priority. It is always a good idea to keep things updated for everyone who reads!
2. Work on planning out content.
-This is a re-occurring goal for a reason. Content is an important part of this blog, so I want to make it better! And planning plays a crucial role in that!
3. Work on social media.
-I want to be more engaging through social media, rather than just posting and going about my day. Social media was meant to be social, and we have gotten so far away from that these days.
4. Plan out & possibly purchase resources to help me blog better!
-There is so many resources out there teaching you how to blog better. I am hoping to try Boss Pitch from Erica! And a few other resources to help me manage social media and other things!
5. Continue researching for affiliates.
-So far, I am partnering with Dayspring. I want to add others as well and get everything going to do affiliates and start my journey to monetizing!
It looks like I have enough here to keep myself busy for a while! I am hopeful that I will knock several of these goals off the list. What are some goals that you have planned for June? Are you going to be traveling? I'd love to hear about that!