Happy January, everyone! What a whirlwind of the last month it has been. There was Christmas & then the New Year came, and holy smokes it's 2018! I am still getting used to writing the new year on literally everything. It has been quite a while since I have posted, and quite frankly, I've been feeling a little overwhelmed and totally uninspired lately. My big brain has big dreams and goals, and I am at a point that I am trying to figure out how to make dreams a reality. So, I have kind of been keeping silent on here and social media so I can focus and gather my thoughts and create a plan for the new year. It is a process, but I am hopeful that in the next few weeks I will have a steady plan in place.
When we go into a New Year, usually it makes us feel refreshed, and like we are getting a second chance. A fresh start. I am not usually one to jump on the bandwagon of the New Year's Resolutions, although I think they are great! Props to you if you make resolutions and make em' happen! This year, however, I am more focused on choosing one or two goals for the whole year, and then work toward those over the course of the next 12 months, instead of crafting lots of "ideas" that I probably won't think about again past January. So, today I am going to talk to you about a few goals that I have for this month as well as the rest of the year, and give you my "word of the year". Earlier today on Facebook, I came across a quiz from DaySpring–one of my favorite Christian gift companies. It was a quiz about finding your "Word of Truth" for the year, and I absolutely loved that idea! If you want to take this quiz as well, you can find it here.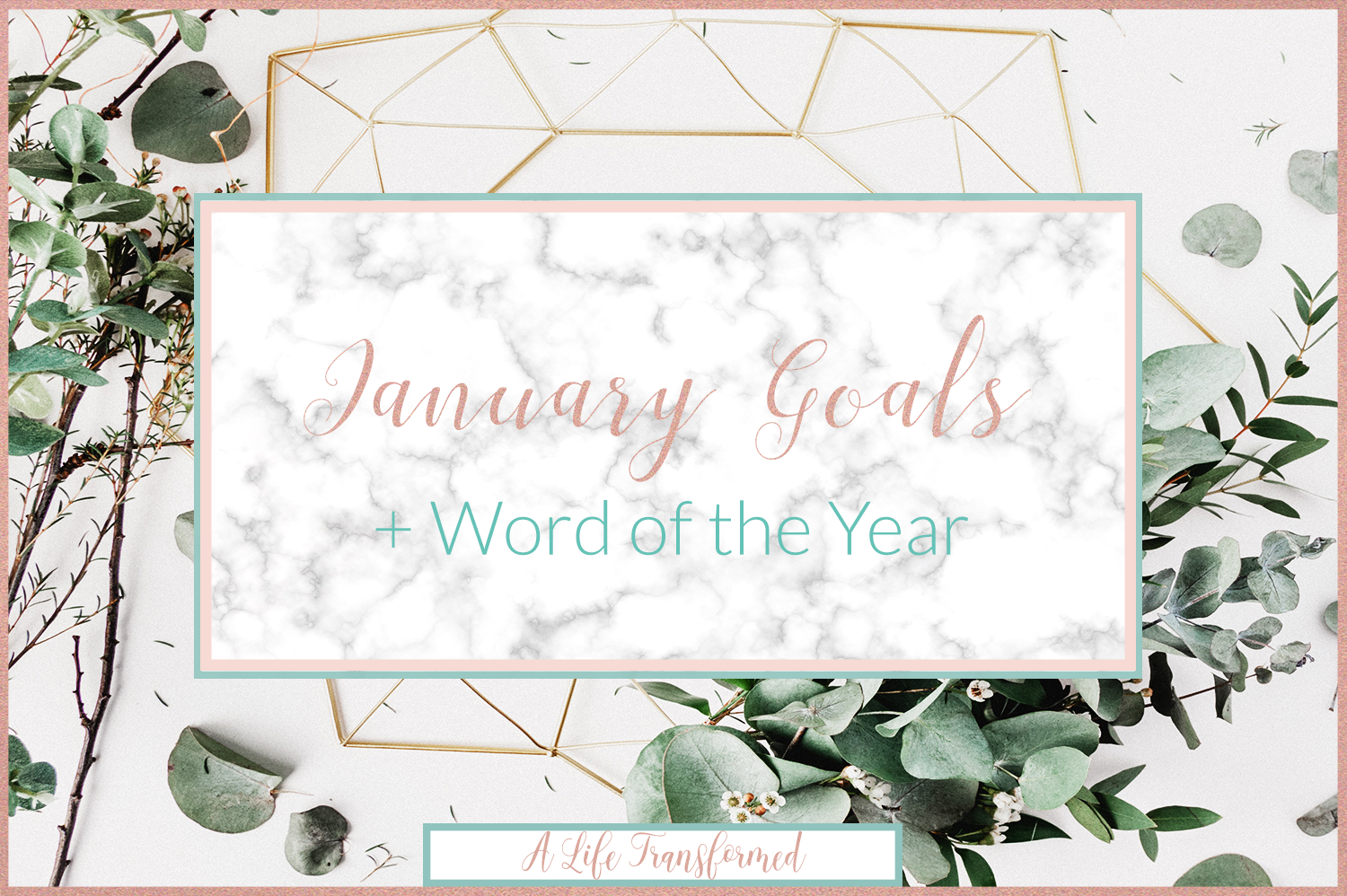 I wasn't sure what to expect when I took the quiz, but I was really excited about my result because it just made sense to me! After I took the quiz, my Word of Truth was "Brave" and I was beyond thrilled, because in my heart I knew that was the exact word of truth that I needed for the year to speak over myself and my heart and for God to whisper to me today. Before taking that quiz, I was all upset and a little down on myself because of where I want to go with this blog, and not being knowledgeable enough to get there. Yesterday was my blog's 3rd anniversary, and I was hoping that by now I would be able to make an income off of it–that hasn't happened. I am quickly realizing that it is a lot of work to take this blog to the next level. So getting the word "brave" was exactly what I needed because I need to be brave as I continue in my pursuit of turning my passion into a profit. I need to be brave as I step out this year and learn to trust God more and fear a lot less. I need to be brave when I encounter the unknowns and the unexpecteds. I need to be brave because God is in me, and He is has a perfect purpose and plan for me.
January is the beginning of the unknown for the upcoming year, but I will be brave in that and use it as my anchor instead of something to fear. It reminds me of the verse 2 Timothy 1:7 where it says:
"For God has not given us a spirit of fear, but one of power, love, and sound judgement"
No matter what this year holds, we can learn to be brave no matter where life takes us. We can learn to have more trust in God and less in ourselves so that we can press forward even when things don't turn out exactly like we hoped. So, be brave with me this year as we pursue those goals we set for ourselves with heart and diligence–even if it gets a little messy!
[Tweet "No matter what this year holds, we can learn to be brave no matter where life takes us"]
November was the last month that I had the chance to do a monthly goals post, so before we delve into this month's goals, let's recap what my goal's were for that month, shall we?
NOVEMBER GOALS: PERSONAL REVISITED
Try not to get so upset when things don't work out like I hope.
-This goal is an active one that I'm continually practicing. Some days are better than others, though. Most days–if we're being honest–my flesh wins and I get incredibly irritated at a lot instead of giving it first to Jesus. So, this is a worthy goal to keep working on.
Be kinder to myself. Especially when it comes to comparison! 
-Some days, this is still difficult, but I am practicing speaking truth over myself instead of letting the lies of the enemy seep in a steal my joy. Any time I feel like being down on myself or feel the comparison creeping in, I tell myself the things that God says I am to help me remember Who I am defined by! I am love, beautiful, valuable, cherished, and soooo much more. And friend, so are you!
Spend less time with Netflix & more time with Jesus.
-Honestly, I am still working on this one. And God is still working on me, too!
 Practice positive thinking.
-This one is something I try to do daily, and always always always try to remember that no matter what I do, I should be doing it all for The Lord. Colossians 3:23 is my go to verse, and it says: "Whatever you do, do it from the heart, as something done for the Lord and not for people".
Try to eat healthier!
 -I actually just started actively doing this as one of my resolutions for this New Year! I have food allergies to gluten and dairy, but sometimes–well, most of the time–I eat the food anyways and suffer the consequences of immense pain and migraines later. But, this year I decided to start fresh (literally) and go clean eating/organic where I can! It's a little bit more work, but I feel the benefits down the road will be worth it.
NOVEMBER GOALS: BLOG REVISITED
Try to plan content out in advance.
-I am still working on this one right now, but am taking a course called Bootstrap Your Content 2018 from Kaylan of Bushel and Bunch that is immensely helpful and insightful that will help give me an actionable plan for content strategy! Check it out if you are also wanting to improve in this area. Here's the Facebook group with all the information!
Write out how I want to refine my blog's focus.
-I am starting to work on this one, actually. Planning out my content kind of ties in with this one, too. I am at a point now in blogging that I am refining what I want this blog to be about, and zeroing in on a few things to write about. Sometimes it takes a while for us to figure out what we want our focus to be, and I feel like I am at a good place now to do just that.
Come up with a plan + try to stick to it.-This one is also in the works, I just need to research a few more things before I start implementing it. I don't have to know everything, but the more information I have for how best to be effective the better.
(Hopefully) create a lightbox so I can take my own photos!
-Still haven't gotten around to this one yet, but I am hoping to accomplish this one next month and begin taking my own photos!
Take at least one helpful course on blogging.
-Yes! I am happy to say I am currently taking one to help me in my pursuit, and that I am making plans for a more in-depth on in the near future!
There's a lot of areas of improvement as the new year begins and progresses, and I look forward to continuing to work toward these goals this year as well as some new ones. As we begin the new year, don't get discouraged if you don't meet most or any of your goals. Instead, look at them as individual trees in a big forest of things that you can keep working toward. The goals we set for ourselves don't always have to be completely in a month, rather take a few months–or the whole year even–to choose a few goals that you can work toward completing! So, with that in mind, below are the goals I am setting for myself this month, but will continue working on way past January!
JANUARY GOALS: PERSONAL
Stick With Clean Eating + Healthy Living
-With my food allergies, I am going to try to be diligent in eating healthier and cleaner. I will feel better because of it, and I know that my body will appreciate it as well.
Learn More About Essential Oils + How to Implement Them Into my Daily Life
-On the first of this month, I ordered my first ever Starter Kit with Young Living! I am really excited about it, but also really excited to be able to begin implementing these into my daily life. I've been using them inconsistently for the last year or so, and decided to go ahead and become a YL member and make it permanent! *P.S. If you are interested in joining, get in touch with me!
Finish The Blogging Courses I Signed Up For!
-Last week, I signed up for my first course with Shaw Academy to pursue a couple different diplomas that will be beneficial in my blogging pursuits. It's really nice and really informative! It is also incredibly reasonably priced!
Work on Being Authentic with my Struggles.
-Online, it's a lot harder for us to be authentic with the things that we struggle with. I know that I struggle with it to an extent as well, so I want to work on being open and honest about when things are less than desirable or good.
Try to be More Productive Around The House.
-Sometimes, it's really hard to be productive. I hope to make progress in the productivity department this month and kick laziness to the curb! Instead of being a couch potato, I need to find things to keep myself productive!
JANUARY GOALS: BLOG
Come Up With a Content Strategy!
-After completing the course with Kaylan, I plan to have a clear content strategy + course of action for the coming month and year, and I really look forward to that!
Write Out Ideas + Plan, Plan, Plan!
-I haven't been too great at writing down ideas, because most of the time my content ideas come to me at bizarre times of night when I am asleep and I don't want to get up to write them down! So, hopefully this month I can be a bit better about it.
Come Up With a Primary Focus!
-I've been blogging for 3 years now, and am now at a point that I have a pretty good idea what I want to zero in on content-wise. So, that's a goal of mine–to write down my primary focus and stick to it!
Learn More About Branding + How to Connect!
-I know a little about branding, however, I know there are areas I can most certainly improve in! So I want to learn more about it, and implement that knowledge in real life.
Focus on Building my Email List!
-I definitely want to grow my email list, and my goal is to learn how to do it well. I hope to learn how to have a rad email game by the end of the month!
With the new year, I plan on focusing on how to grow this space as I continue in my pursuit of turning my passion into my profession! I love being able to serve in this way, but as with any profession, there's lots to learn. I hope you stick around for this wonderful journey, and I look forward to being able to serve in new ways! So there are a lot of goals for me to work towards this month and the rest of the year!
---
Q 4 U:
What word for the year are you going to choose?
No matter what it is, let's be brave this year together as we step up and step out with our goals and our lives!