How To Make Your Own Photography Lightbox
It's no secret that bloggers like myself have an obsession with natural light and bright beautiful photos. If you're like me, you've probably spent hours scouring the internet for just the right photo to use on your blog or Instagram (It can't be just me haha). After a while though, it can get kind of tiring and time consuming continuing in the daily search for free photos, when most stock photo subscriptions are pricey.
When you get serious about your branding, you want your photos to reflect your own personal brand. Your brand reflects who you are, as well as what your blog is about. Everything in your brand gives people a glimpse of you. From the colors, to your voice, to your social media, everything about you is reflected which is why it is so important. The use of stock photos can be beneficial when you don't have the time or means to take your own photos and know what you're looking for and can get them at a reasonable price. If, however, you can't do that, having your own lightbox to take your own photos with is a viable and affordable solution.
If you have a little time on your hands, a camera, and a photo editor (you can use Canva for free), then a lightbox will be a great addition for you! The camera you use doesn't necessarily have to be a DSLR–although those make photos a million times better–your phone camera can take some really great photos as well! Phone pictures have come a long way in the last few years. I still remember having a phone that had a 1.3 megapixel camera on it and thinking it was the best thing since sliced bread, and now we have cameras that have 8+ megapixel cameras that take pictures that look a million times better than that! I am still blown away.
Anyways, let's get down to business, shall we? Here's what you're gonna need to make this project happen:
4 pieces of 31 inch long wood slices (however big or small you want them)

8 pieces of 20 inch long wood slices

White muslin fabric (I used less than a yard, but how much you need depends on where you want it all)

Staple gun

Screws (size depends on board thickness)

Your choice of background material (I used 2 12×24 marble peel and stick laminate tile attached to two boards we attached on the bottom of the box)

Lighting for your photography Lightbox ( I used led puck lights, but you can use whatever you prefer. Most people use desk lamps).
First, after acquiring and cutting the wood to size, you will attach it all together with screws as is shown in the below photo, and then attach the muslin fabric around the lightbox. You can put the fabric on top of the box if you'd like, I left mine open on the top to allow for different camera angles.
Next, you are going to attach the bottom boards, if you have them, to the Lightbox frame like shown in the next photo. Mine are definitely not perfect by any means, but they get the job done.
My boards weren't exactly the right size, but I made them work. These were some my husband and I had laying around the house from when we got shelving for our hall closet, so I made use of them, perfect or not! Once you put the backdrop on, you can't see them anyways.
In this next step, you are going to apply the material that you would like to be the background of your photos. For me, I used 2 pieces of 12×24 peel and stick laminate that looks like marble to match my brand.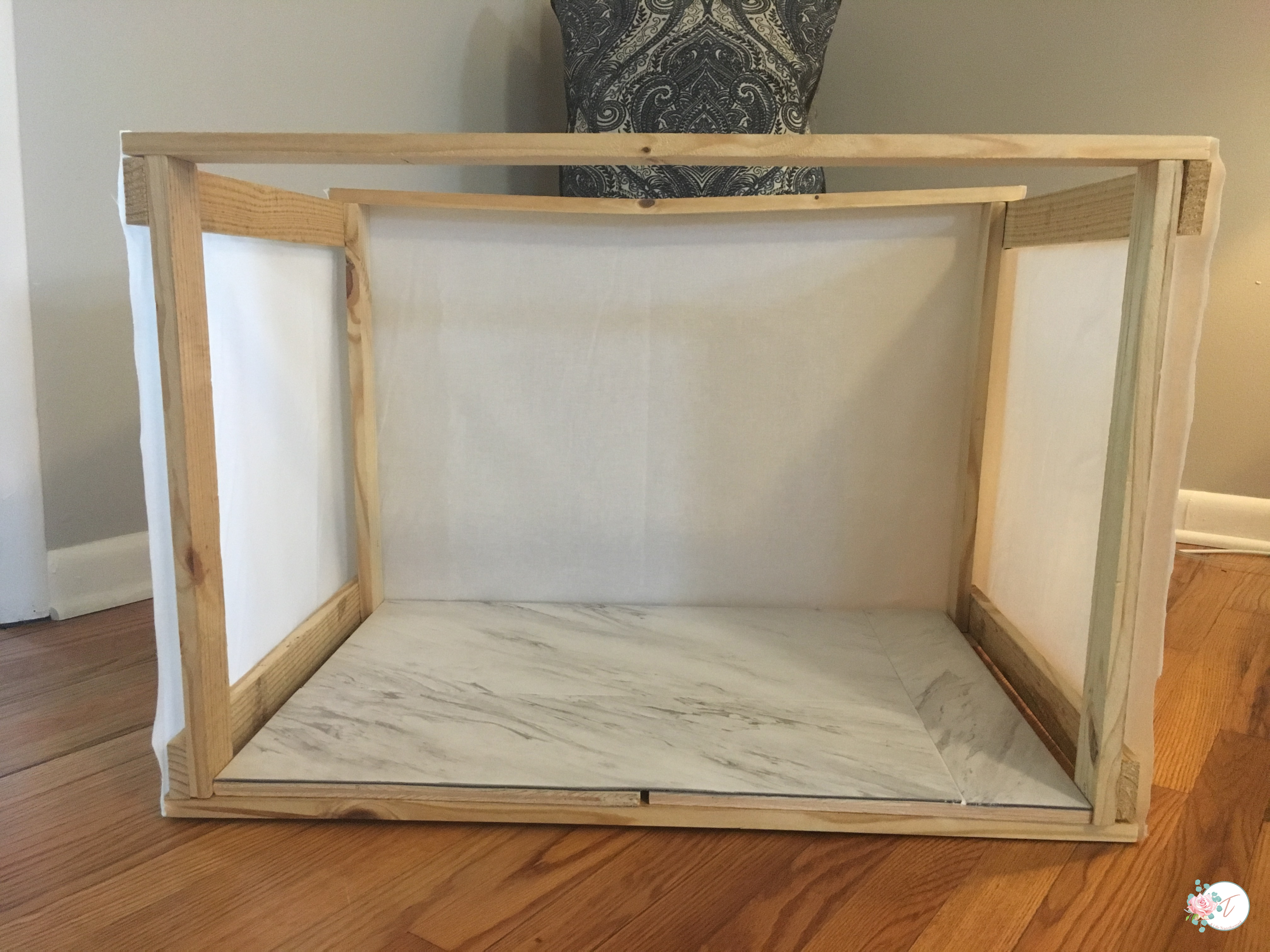 I had to do some cutting & rearranging because one piece was bigger than the depth of the box, and there was a little bit of space left on the side where the pieces weren't quite long enough. I used the extra piece from the marble I cut, and put it on the side where it was a tad longer than the marble sheets. Again, this project isn't perfect, but I made it work. My suggestion, if you choose to use laminate like I did, would be to have a piece of laminate cut to size for the box to avoid the hassle of cutting.
After you have completed that step, all you have left to do is add the lights! In my case, and because desk lamps are pretty pricey, I decided to use LED light pucks in lieu of desk lamps. I have seen several posts on making your own Lightbox in which desk lamps were used, and that's fine. I've even seen others use flashlights as well. Your lighting for your box is totally up to you and dependent on the style you are going for. You'll find in the following photo what mine looked like with the LED lights. If you make this project for yourself, please share it with me! I'd love to see it! You can email me at [email protected] with photos!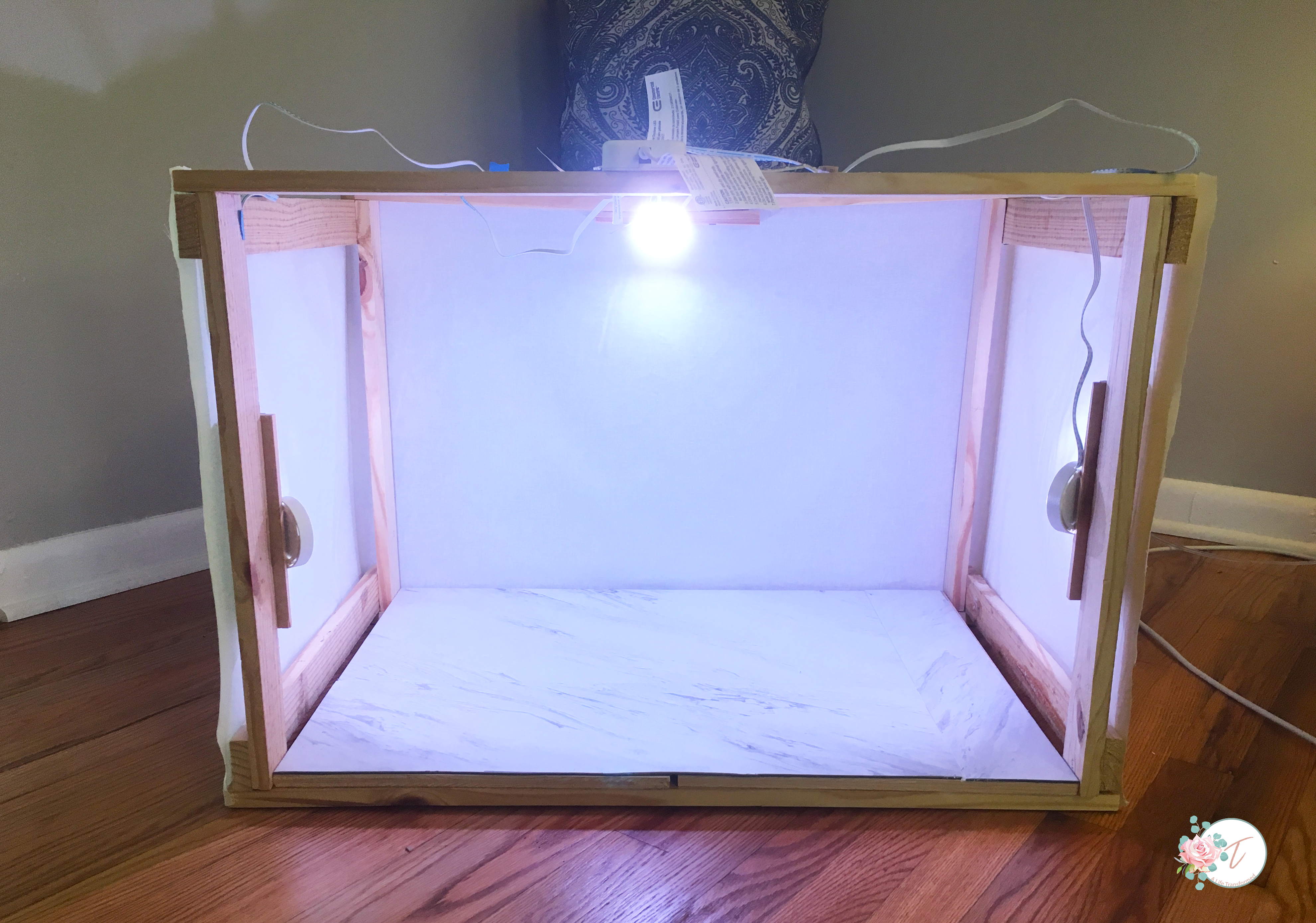 Just a little side note: The lights are still in the arranging stage for me, as we are deciding what the best layout is. No matter what lights you use, they can be customized! I do suggest putting one on each side at a 45 degree angle and one overhead. Either way, these get the job done quite nicely, and I can't wait to start using it. And there we have it, friends! How to make your own photography lightbox! I hope that this tutorial has been useful and helpful for you and your blog or business, and I look forward to using this Lightbox and hope that you do too. Reach out to me if you make it!
Now, with all this hard work that both my husband and myself have put into making this lightbox, here's that big surprise I've been hinting at: A Life Transformed will be opening up shop to give you the ability to purchase affordable stock photos from yours truly along with other digital goods real soon! I am really excited about this big step, because it's something I have been wanting to do for quite sometime, and fear has stopped me every time until recently. I'll post more about what prompted this decision later, but for now I hope that you are as excited as I am about this new step into the future! Now, get out there and make yourself a lightbox!