Since most of us are in quarantine right now thanks to COVID-19, this recipe for Grandma's Crockpot Beans is sure to lift your spirits. As someone who has been born and raised in the South, there's something comforting about beans and cornbread. Grandma's Crockpot Beans really warm your soul when you're feeling a little down.
There's something comforting about beans and cornbread.
When I made this a couple nights ago, my husband and I were watching a movie with dinner and I told him that these beans were really hitting the spot, haha. You really can't go wrong with comfort food during trying times like the one we're living in currently. I made the cornbread to go with it because it adds another layer of yum to an already delicious dinner.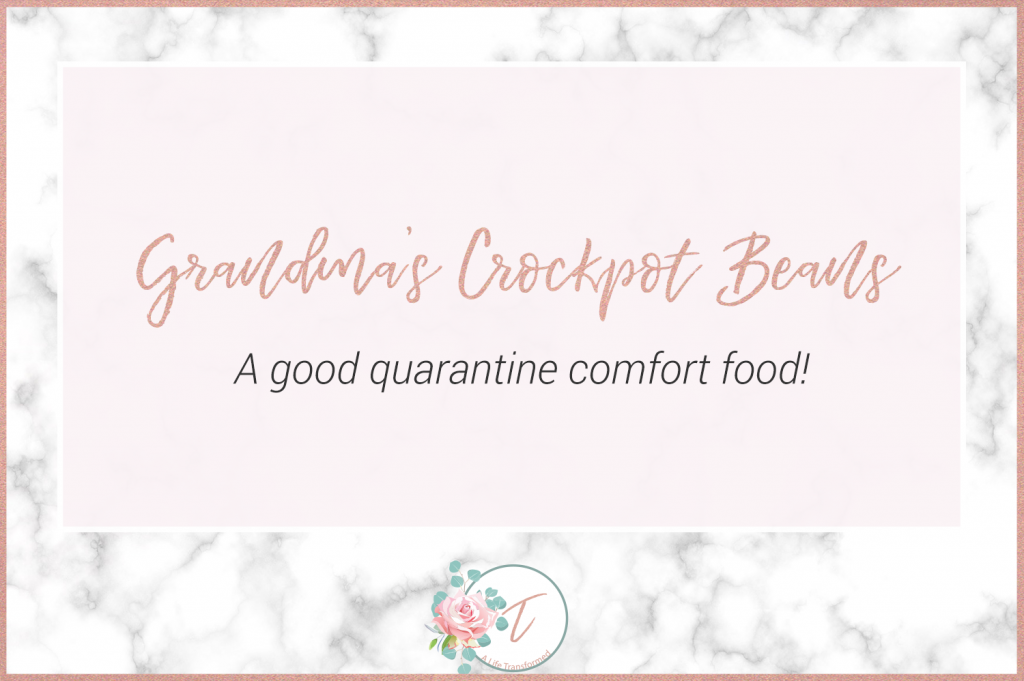 Growing up, my mom made this recipe a lot for us. She told me a pretty hilarious story too. I told you back in this recipe, that my mom is the kind of cook that likes to experiment. Well, suffice it to say that this recipe is one that you don't experiment with, lol.
For the best results, follow the recipe and don't experiment!
My mom told me that she learned it's probably not a good idea to make substitutions 🤷‍♀️.  Once when she made it, she didn't have Lima beans so she used large butter beans instead. They were huge, and you only needed one per bowl. She also used baked beans instead of pork n' beans, and chili beans instead of kidney beans. It can be done and still be edible, but definitely not the same if you don't follow the recipe.
My hope is that this recipe will lead to funny stories like this one around your dinner table during quarantine. Being cooped up isn't always exciting, but family togetherness and sharing stories around the table can help lighten your mood. If you make it, leave a comment and let me know what you think!
Grandma's Crockpot Beans
This savory crockpot dinner will hit the spot every time!
Total Time
4
hours
15
minutes
Ingredients
1

lb

Burger

1

tbsp

Dried onion

add more or less as desired

6

pieces

Bacon, crumbled

1

can

Pinto or chili beans

1

can

Kidney beans

1

can

Lima beans (or frozen)

1

can

Pork n' Beans or Baked beans

1-2

tbsp

Dale's seasoning

1-2

cans

Water (to be soupy)

1-2

tbsp

Ketchup (to taste)

1/2

cup

Brown sugar

1

tbsp

Spices (garlic pepper, chili powder, garlic salt, mrs dash or others you desire)
Instructions
Brown the burger meat in a skillet until it is no longer pink.

Cook the bacon in the skillet, oven, or the microwave & crumble.

Combine all ingredients into the Crockpot.

Cook on high for 4 hours or low for 8 hours.

Serve & enjoy! (Make some cornbread to go along with it if you so desire)