As we approach Thanksgiving next week, I wanted to take a moment to gather with a grateful heart, and make a list of a few things I am thankful for this year. Although we should be actively practicing being grateful for what we've been blessed with, I do love the tradition of gathering together with grateful hearts and remembering all that we have. Especially when we get to gather with our families, because we should be especially grateful for that! Although the food is really great, and it's nice most of us have a day off, we need to remember to be grateful no matter what, because we are blessed beyond measure, and a lot of other people are not as fortunate as we are.
Today, I wanted to give a list of some things I am thankful for and why. It won't be an extensive list, but it will have some very important reminders in it. I think all of us would benefit from actively practicing being in a state of gratefulness no matter what season or holiday it is. It is a good reminder to be thankful all the time and not just one day out of the year. I believe when we forget to be thankful for what we have, it creates unnecessary tension between us and others, as well as give us a higher tendency to compare what we have or don't have with others, which isn't healthy.
My goal is to take a few moments everyday to pause and thank God for the things He has blessed me with. Even if there are hard things happening that I don't always understand, I want to be thankful for the lessons that God teaches me through them. Even if I have to learn the same lesson a hundred times, because let's be real, we are all stubborn and when God tries to teach us a lesson through circumstances, we often don't listen, do we? I know that is the case for me, but I am thankful that God is gracious and lovingly continues pursuing us and wooing our hearts back to Him even when we pitch a fit. So, with that in mind, here are six things I am grateful for this season!
---
I Am Thankful For My Salvation.
I am so very thankful for my salvation in Jesus Christ. I definitely don't deserve it at all, but God in His wonderful grace, reached down from Heaven to rescue me, and you, and for that I am both humbled and grateful all at once. There are so many different things that I am thankful for all wrapped up in the grace of salvation through Jesus.
I Am Thankful For Family.
My family means the absolute world to me, and I am thankful that God saw fit to make them so. Sometimes we can be a bit crazy, but I love my family all the more. I am thankful for both of them–my husband's side and mine. Both families have impacted me in one way or another, and made me a better person. I am so glad to have them, and what a blessing they are!
I Am Thankful For Seasons.
It's so sweet to experience the changing seasons. Each one of them, to me, reflects a characteristic of God. And that's because all of them were created by God, and even scripture says that "The heavens declare the glory of God, and the expanse proclaims the work of his hands" (Psalm 19:1).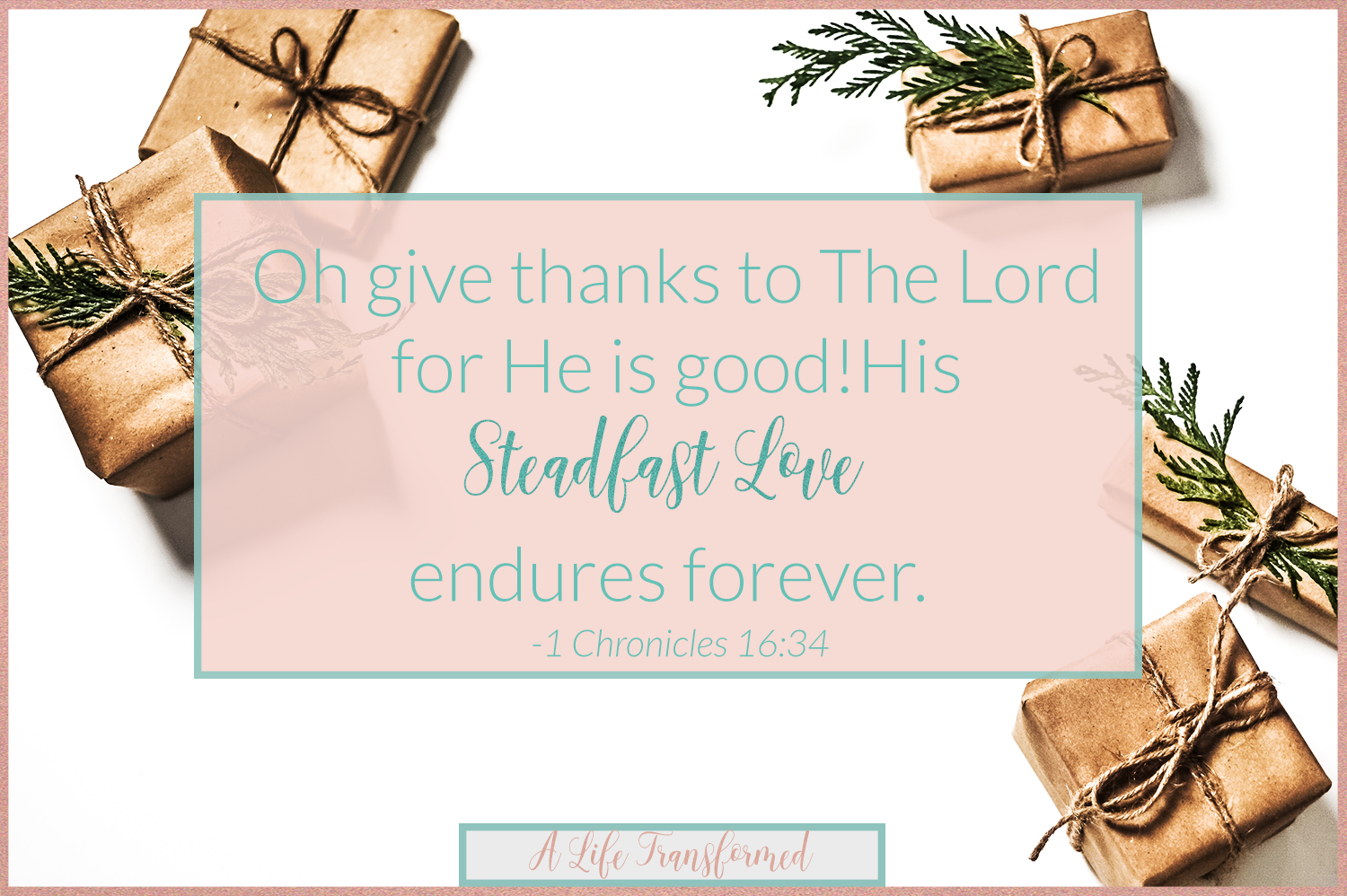 I Am Thankful For The Body of Christ.
I am beyond thankful for the body of Christ in the church. Each of us are the hands and feet of Jesus and the glory of God on display, and you can see a beautiful picture of Jesus through His church. It is wonderful getting to fellowship with and do life with the body of Christ!
I Am Thankful For Furry Friends.
I am incredibly thankful for animals. I love them, and I believe that through animals a lot of times we can see a picture of Christ's tenderness towards us. There is nothing sweeter than coming home and being happily greeted by a furry friend! My husband and I have cats, and it is so sweet being loved on by them when we come home!
I Am Thankful For Friends.
I have been blessed so much by my friends. Whether near or far or wherever you are, you've made an impact on me in some way. I am thankful for friends that encourage, pray for, laugh with, and just live life with me no matter what is going on. I am thankful for friends that I can count on with everything, no matter what time of day it is. God's friendship to us is manifested through my friends here on earth.
---
Q 4 U: What things are you most thankful for this season?
I so hope that you all have a very blessed and thankful Thanksgiving next week! Remember to be thankful no matter what time of year it is, because we are blessed beyond measure! And also be safe those of you traveling long distances (or at all)! I am thankful for each and every one of you who read this blog too, and I am thankful that I have the ability and the opportunity to share with you through the internet! This community has a special place in my heart <3