Now that Fall is finally here, it's the perfect time for cast iron cooking round the campfire. One of my favorite things that my mom made growing up when it got colder, was meatloaf. This easy skillet meatloaf is a great savory meal for those cooler Fall evenings that's also really delicious.
We usually had things like mashed or dirty potatoes with it, but you can do whatever you'd like! The best thing about this recipe though, is that it's made using a cast iron skillet. I really don't know what it is about cast iron, but to me food just tastes so much better when cooked with it.
If I've never said this before, let me just say that I am incredibly thankful to have a Southern mama that can cook. Mama, if you're reading this, I love you and am glad you taught me to cook. Otherwise, I'd probably be in trouble, ha ha.
While I was still living at home, I worked part-time and went to school. Coming home for dinner in the Fall, almost always my mom was in the kitchen making something warm and delicious. Meatloaf, much like taco soup, has always been one of my favorite things to eat when it's cold. So, this recipe for easy skillet meatloaf is definitely a great one to write down, especially if you wanna have a good recipe to cook over a campfire.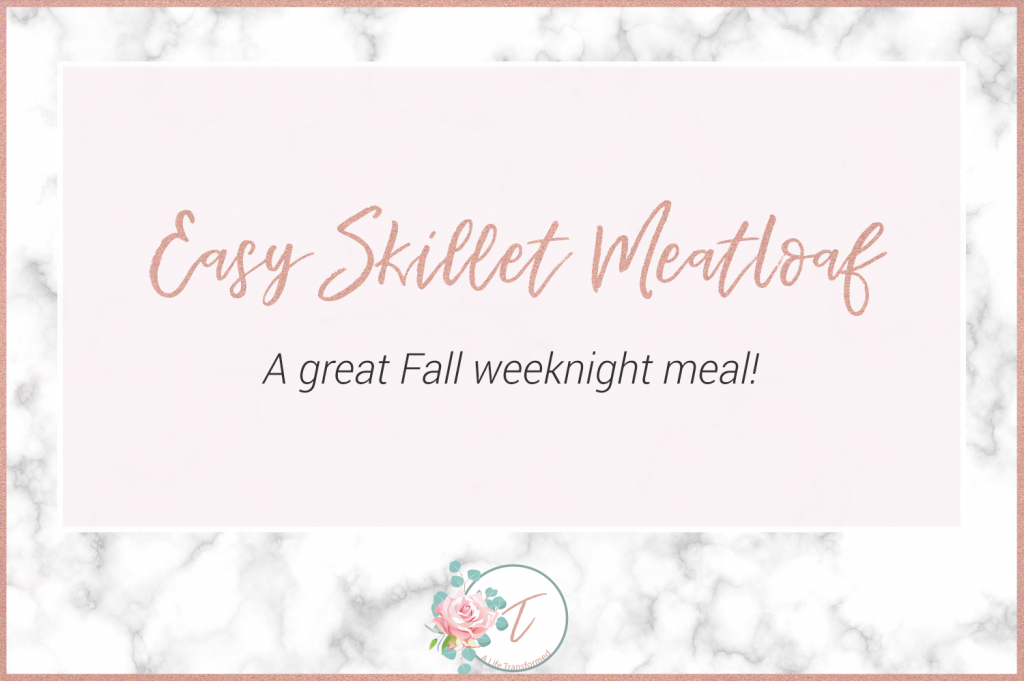 There's actually quite a funny story about meatloaf that I have for you. First, you should know that my mom is the kind of cook that experiments. When she's out of specific ingredients she needs for a recipe, she uses whatever she has on hand. Knowing this, when my husband and I were dating, I found out that he absolutely hates vegetables.
Well, one night in particular we had meatloaf, my mom was out of something she needed for it. She had some veggies on hand, and she chopped them up and added them to the meatloaf. My now husband came for dinner that night and ate the meatloaf. He thought it was really good, not knowing that there were veggies in it.
My husband asked after dinner what was in it, and when we told him he was pretty surprised. He still loved it though, and that night I learned how to get my husband to eat veggies without knowing it, lol. We had a good laugh about it that night, and we still laugh about it today too.
Maybe this meatloaf recipe will foster a laugh or two around your dinner table, you never know. I encourage you to make it and see what kinds of crazy conversations may happen at dinner. After all, Fall is a great time for thankfulness and togetherness.
Easy Skillet Meatloaf
This easy skillet meatloaf is the perfect savory Fall recipe to enjoy round the campfire or in the warm indoors.
Ingredients
2

lbs

Burger

1

cup

Oats (gluten free if needed)

1

Egg

Dale's (to taste)

Mustard (to taste)

Ketchup (to taste)

Onion, diced or dried (to taste)
Instructions
Mix all of the ingredients together.

Place mixture into cast iron skillet, pat down.