CSB Rainbow Study Bible | A Review
DISCLAIMER: I received this book from B&H Publishing in exchange for an honest review. I was not required to write a positive review. Want to be a B&H/LifeWay blogger too? Apply at bhbloggers.com.
---
The CSB Rainbow Study Bible features a unique color-coding system that allows readers to quickly and easily identify twelve major themes of Scripture throughout the biblical text: salvation, God, family, love, history, prophecy, outreach , and faith. The system also underlines all the words directly spoken by God, Jesus, and the Holy Spirit. The Rainbow Study Bible is the No. 1 fully color-coded Bible with more than 3 million copies sold!
OTHER FEATURES
Introduction for each book of the Bible
Full-color maps and reconstructions
Bible reading calendars
Concordance
Subject guide
Chart of Ancient Bible Texts
Harmony of the Gospels
"Know What God Says"
"100 Popular Bible Passages"
"365 Popular Bible Quotations for Memorization and Meditation"
Table of Weights and Measures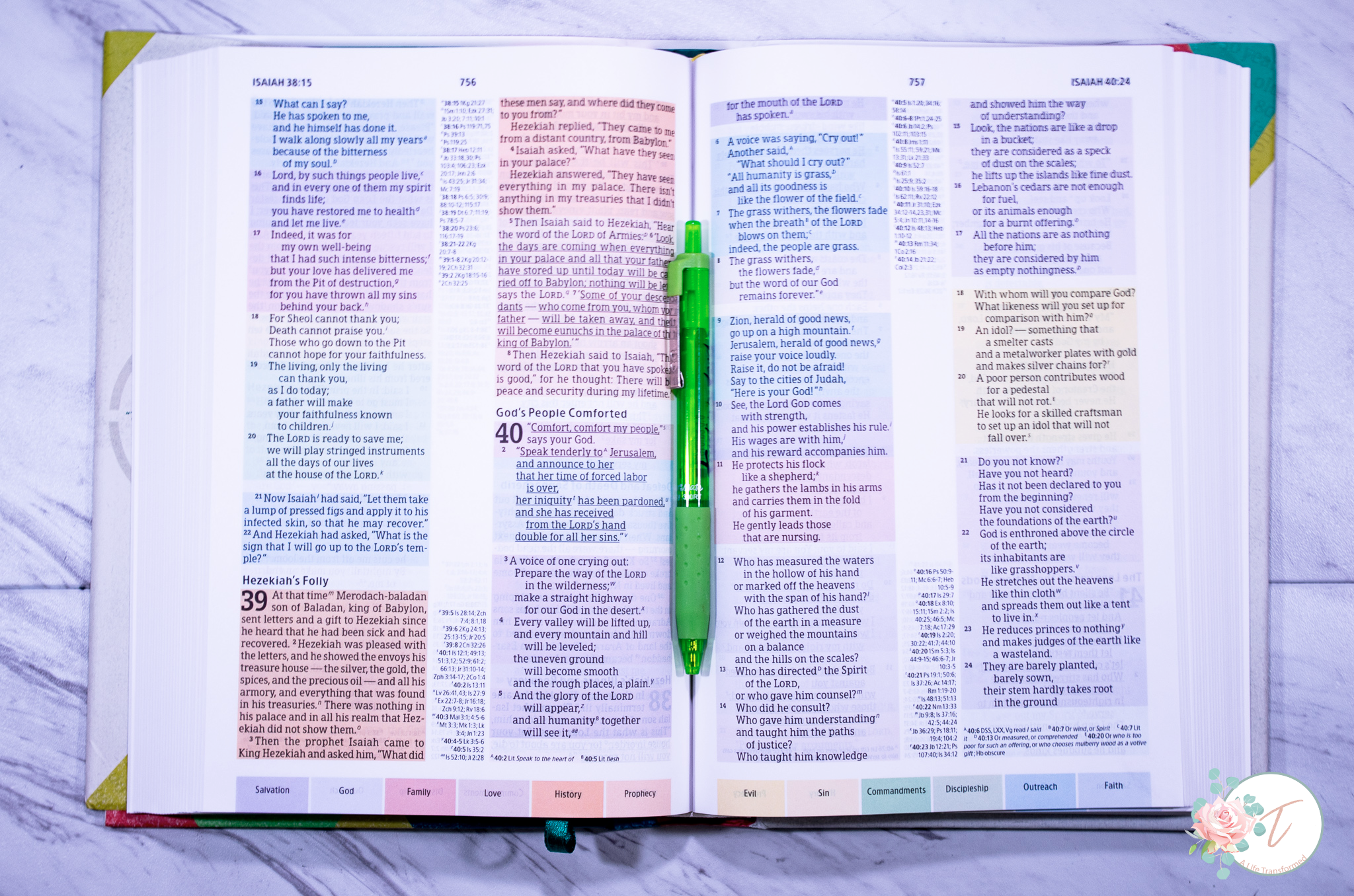 The
CSB Rainbow Study Bible
features the highly readable, highly reliable text of the Christian Standard Bible (CSB). The CSB stays as literal to the Bible's original meaning without sacrificing clarity, making it easier to engage with Scripture's life-transforming message and to share it with others.
---
Growing up, my dad was a pastor, so naturally, he had all sorts of Bibles that he loved to use. One of the ones I remember the most was the Rainbow Study Bible. I don't remember which translation it was, but I do remember thinking how beautiful it was and how much I loved all the passages being color coded. Me loving color coding hasn't changed over the years, which is why I am more excited than ever that I got the opportunity to receive this beautiful Bible. When Holman rebranded & revised their beloved translation HCSB, into CSB, I anxiously awaited the return of the new and improved Rainbow Study Bible. The rainbow is beautiful, but as Christians it is even more significant for us. When the floods came and destroyed the earth, God sent the rainbow as a sign and an eternal covenant to His people that He would never flood the earth again. The rainbow is God's way of showing us that He is keeping His covenant with us. Honestly, it's so beautiful the ways God shows His love toward us. You can read the full story in Genesis chapters 6-9 if you haven't already! The rainbow in the
CSB Rainbow Study Bible
is pretty significant too, not only for what it represents, but how it helps you read and understand Scripture as a whole. Each color code relates to 12 different themes of the Bible; Medium Purple for Salvation, Light Purple for God, Dark Orange for family, Light Pink for love, Medium orange for history, Light Orange for Prophecy, Dark Yellow for Evil, Light Yellow for Sin, Medium Green for Commandments, Light Green for Discipleship, Medium Blue for Outreach, and Light Blue for Faith. In addition to helping you read and understand the major themes of Scripture, the rainbow color-coding also makes it easier for you to memorize Scripture.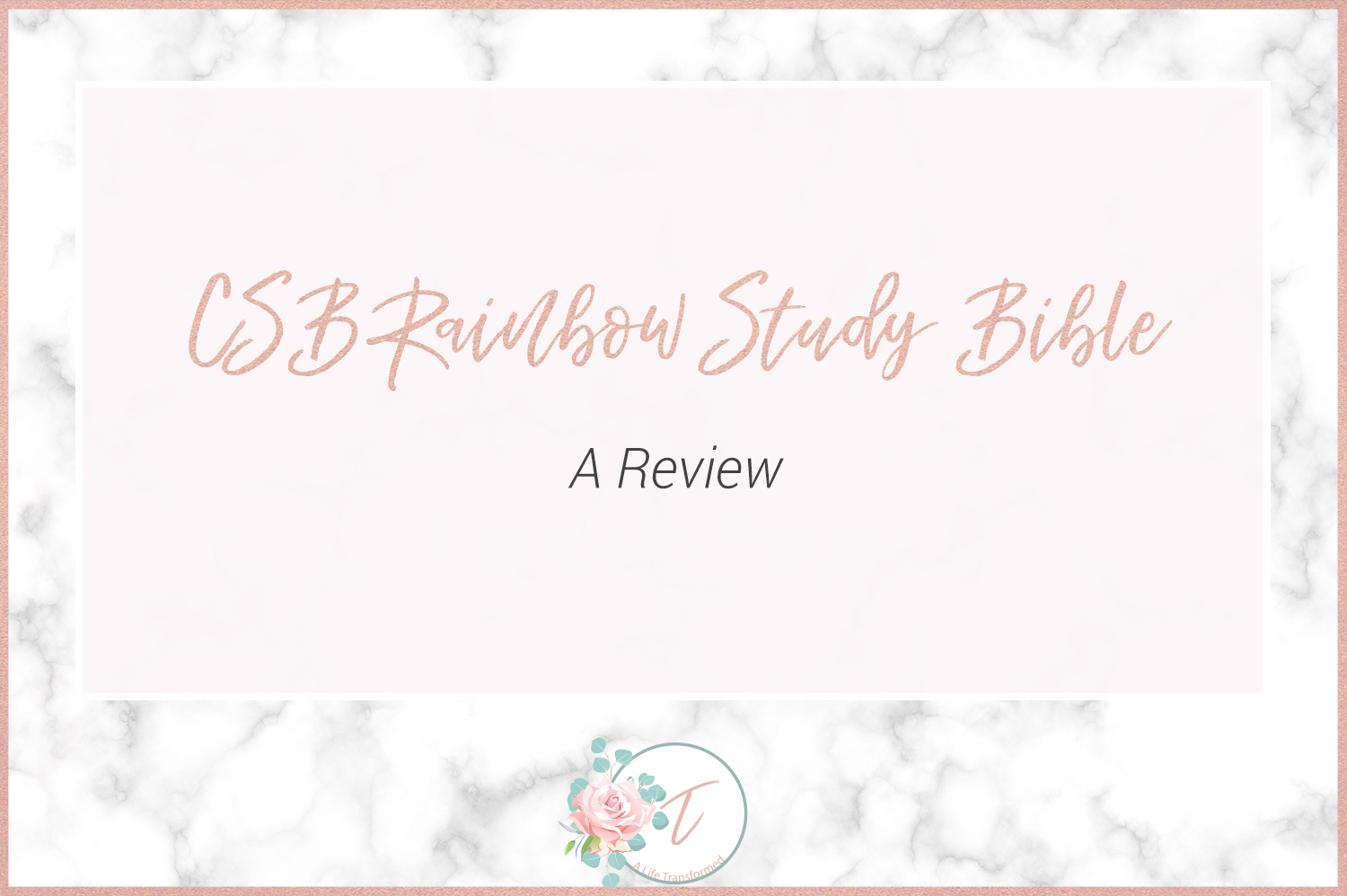 Also in this Bible, is what are known as center column references. These references help you dig into God's Word even further as you are reading by directing you to other passages throughout Scripture that talk about the different accounts of the story you are reading. Using these helps you be able to see and read the Bible as one complete work, and understand more fully what was happening in each passage. In the back of the Rainbow Study Bible, you will find several Bible reading calendars. These include a one-year daily Bible reading calendar and a personal daily Bible reading calendar that you can use during your personal quiet time when reading Scripture. At the beginning of each Book of the Bible, there is an introduction to each book with helpful things like who wrote it, when it was written, the time span, background information, who it was written to, the content summary, key words, and themes. Personally, I love introductions to Scripture because it helps me see things clearer than if I were just reading it without any other knowledge. It helps me understand the uniqueness of each book and what to expect as I read, and also helps me understand what was happening and why. I love being able to get a glimpse into the lives of those in each book before I even read it! There's just something so personal about it, and I feel like I am sitting down having coffee with the people in each book.
This Bible is hardback and lays flat when you set it down, which is really nice so you don't lose your place. Right inside the first pages of the Bible, after the Table of Contents, there is a "Words of Explanation" section that walks you through every facet of the Bible from start to finish. It is really neat and full of lots of information! The font size of the Bible is a pretty decent size, so you don't have to strain your eyes when reading. If that's not enough to excite you, there's more. The books of the Bible are listed BOTH in Biblical AND Alphabetical order. In the Biblical order, it breaks down the books by Divisions: Law (The Pentateuch), History, Poetry, Major Prophets, Minor Prophets, The Early Church, Letters of Paul, Other Letters (Epistles), and Prophecy.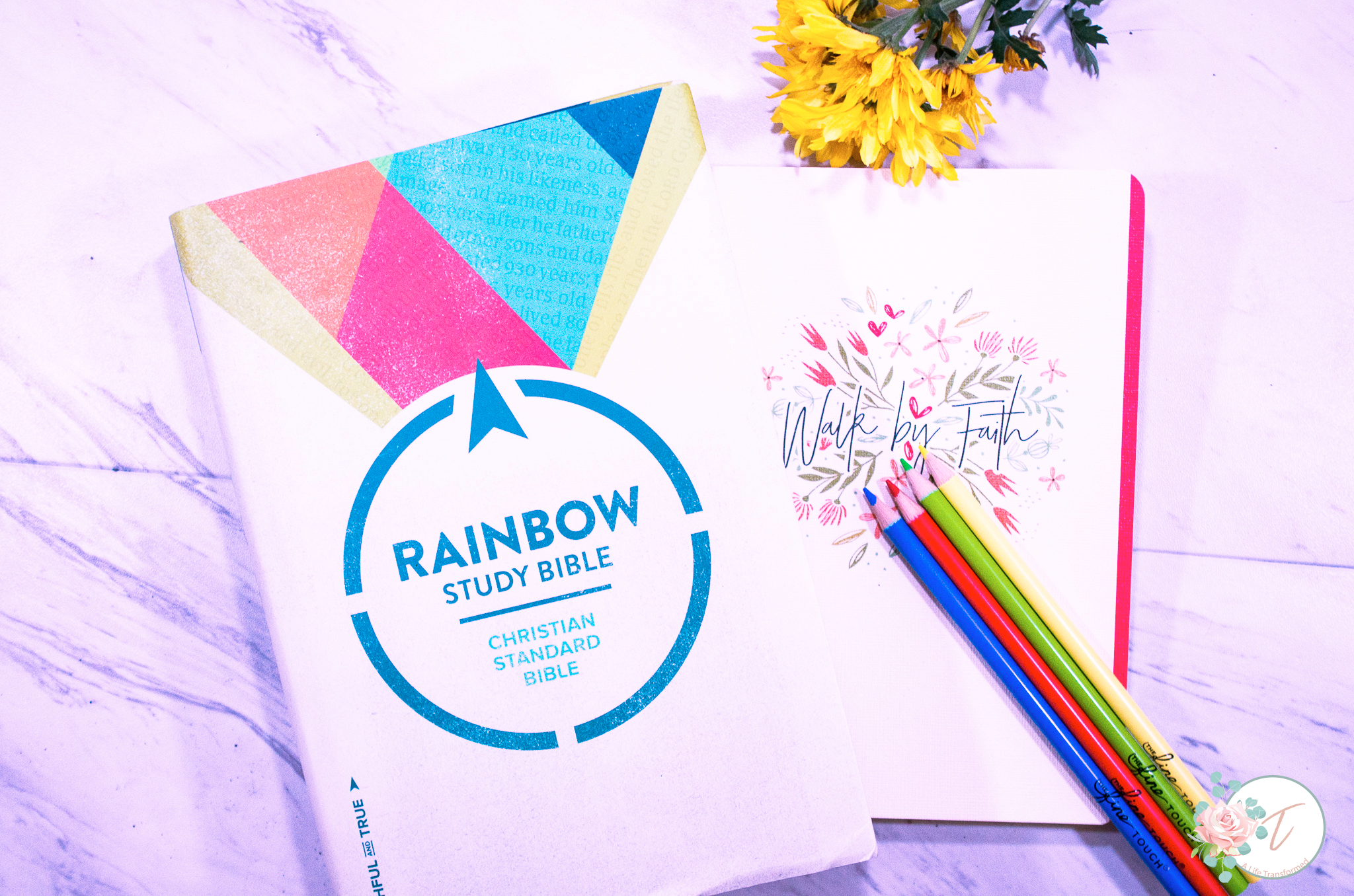 Overall, the
CSB Rainbow Study Bible
is not only beautiful but packed with loads of content and information that helps you better understand Scripture as you read and connect with it. The color-coding system makes it easy to memorize and understand twelve major themes of Scripture at the same time. The additional tools that it offers gives you further ways to dig into Scripture during your quiet time, and get to know Scripture as one complete work. I highly recommend this Bible to anyone to use on a regular basis, but I particularly feel that this Bible would be a great resource for new Believers just starting out, as it will help them make sense of Scripture. If you are interested in purchasing, you can find this Bible
here
and on sale for $27.99 or wherever Bibles are sold. I really love this Bible, and plan on using it in the years to come. I hope you get as much out of it as I have, and that it is something you use and love. Thank you to B&H for sending this to me!