Hey there friend! If you a read my first post about creating blog post graphics with Canva, then I hope you are here today for the followup post to learn all about how to do the same with Photoshop!
Believe me when I say Photoshop can be pretty overwhelming, I was there myself! Last semester in college, I had a course that taught me the basics of Photoshop, and that helped a ton! So, today I want to share with you some basics on how to create graphics with Photoshop!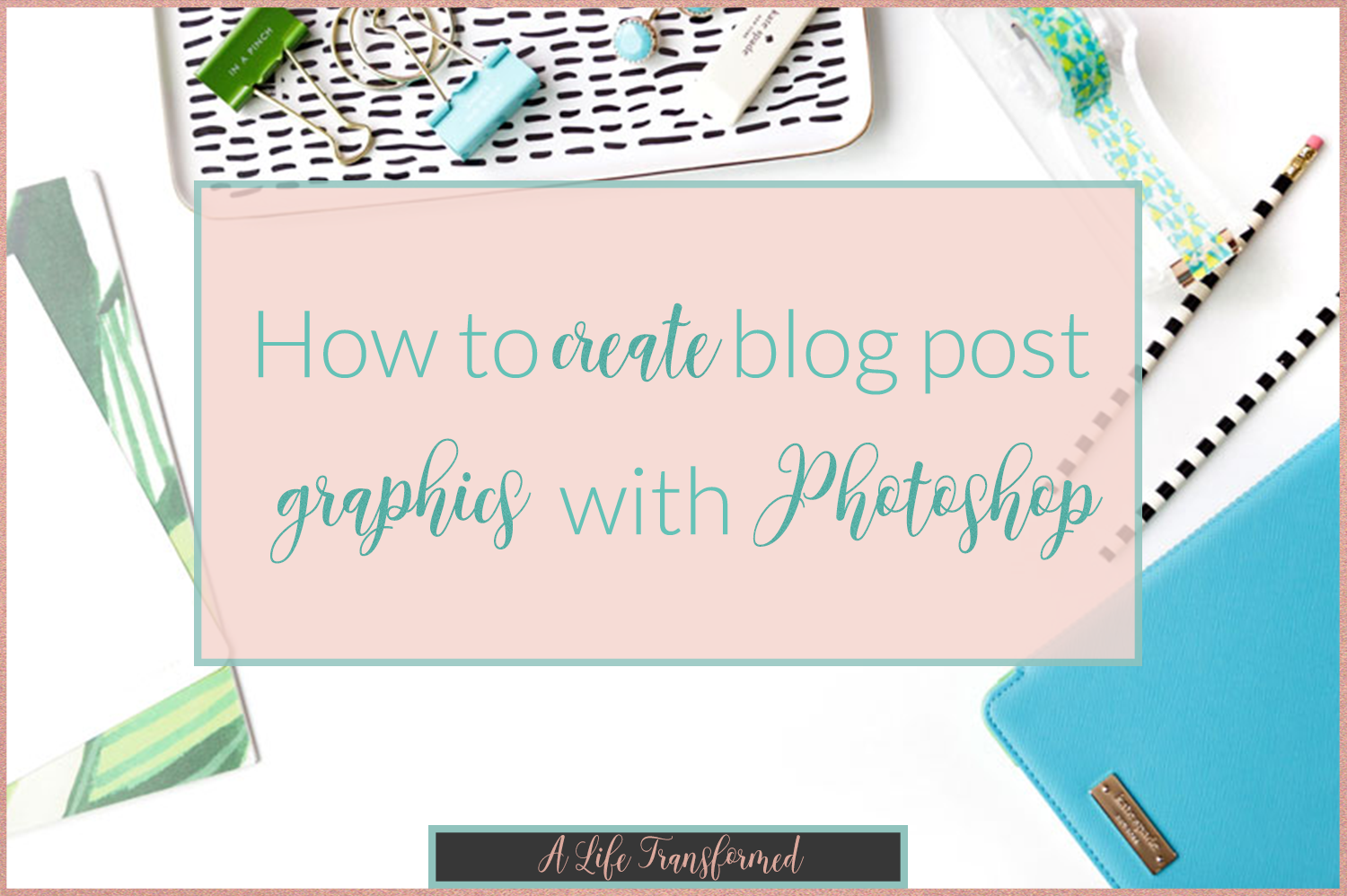 Now, before we get started, I will be showing you how I myself make my own images, however, as with Canva, you can be creative and make your graphics however you see fit! Okay, ready to get started?
The first thing that you will will do once you open Photoshop is create a new file. You should see something like the below picture: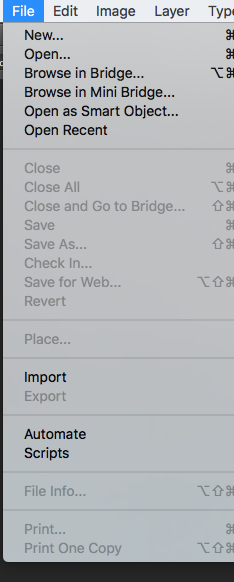 Next, you will click "New" and there will be a prompt for you to name your document, and specify the size you want. Again, my sizing will be different, but you can make it whatever you want! Tip: Put the word "template" in your document name and save the PSD file, so that way, you can refer back to it in the future when making other images and simply change out your images and the text! SIMPLE! You should see a window like the one below.
Now, where it says color mode, you can choose what you would like. Web colors are ALWAYS RGB based, and if you are wanting to make a printable, then you would choose CMYK for print colors! Depending on the color, CMYK colors will show up a lot different than RGB, so just be mindful of that going in. If you want to change your mode at any time, just go to the "Image" tab, then roll over "mode", and select either RGB or CMYK!
For this next step, I'll use a background image that I downloaded from Unsplash. It's a site where you can get free high res images that you can use for whatever you want! Simply drag & drop your image onto your template & resize as needed! Tip: If you hold the shift key while resizing, it makes it even.
I usually edit the opacity (or transparency is another word for it) of the image to make it lighter. To do that, you can edit the percentage like in the following picture:
This is your layers panel. It is found to the right of your screen! In this little menu, you can add all sorts of fun effects, adjust the brightness/contrast and all sorts of other things! I recommend playing around with it a bit to get familiar!
You see the word "opacity"? That is where you can adjust how light the image background is! I will show you what mine looks like!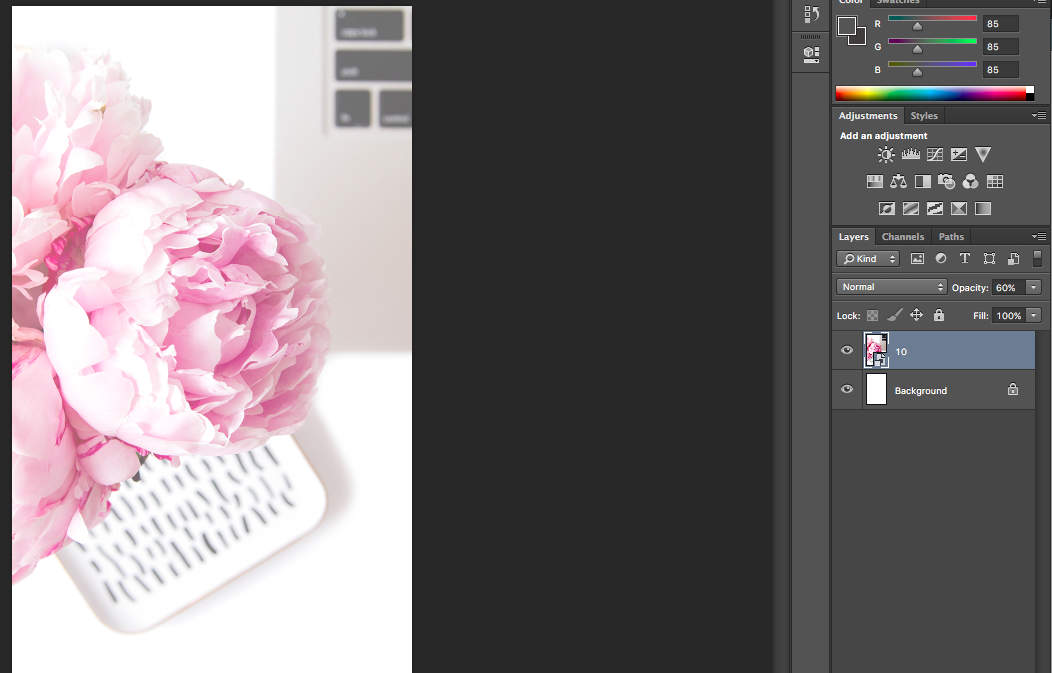 I made my opacity 60%! Now, I want to add a border and use a thing called a clipping mask. I use a clipping mask to make my rectangle shiny and rose gold, and I use an image of foil that I made to do that, but you can use whatever you like! Other images work just as well!
Now, to make a rectangle border, I am going to look in my sidebar on the left-hand menu like below: (I turned it sideways so it wasn't so long)

Do you see the tool under the arrow toward the right that is a rectangle? That is the shape tool! Now, if you click and hold the little triangle on that menu, you can select a different tool, but for today's purposes, we are going to use the rectangle tool. Remember earlier when I said that if you hold the "Shift" key, it makes things even? Well, with this tool, to get an even rectangle, we are not going to hold the shift key while we drag! P.S. Don't worry if it isn't centered, we are going to move it after we finish!
Start in the upper left hand corner, and drag till you get to the bottom right hand corner! Then release your mouse! Now, let me show you the shape menu before you freak out if your rectangle looks a bit odd. This is what mine looked like the first go around:
With your rectangle tool still selected, if you look at the top of your screen (below the menu bar), you will see a menu for the rectangle. Now, yours may look a little different than mine, and that's okay! I will walk you through what to do!

Do you see the "Fill", "Stroke", the "point menu" and the "line" menu to the left? That's what we will be working with. The fill controls the color you want the entire shape to be, I don't want mine filled in, so I click the fill menu, and select the color that has a red line through it (signifying no fill).
Now, I want the stroke (the outside of the rectangle), to be a solid color, so I click the stroke menu and select the color that I want. You can leave this step right here if you like the way it looks, but I am going to take it one step further and add a clipping mask to my rectangle.

The menu next to the stroke color controls the thickness of the stroke and the one to the very right controls the kind of line you want.
Now, for the clipping mask part (this is fun)!
You can select any image you want, but I am going to use a foil image that I made. If you want to learn how to make that in Photoshop, just let me know! It is super easy!!
So, to select your picture, choose from your downloads menu. I type the name of my image in the search bar, and then choose "open".
It will look something like the below picture, and then you will stretch the image over your rectangle like the right hand picture. The black parts are my rectangle.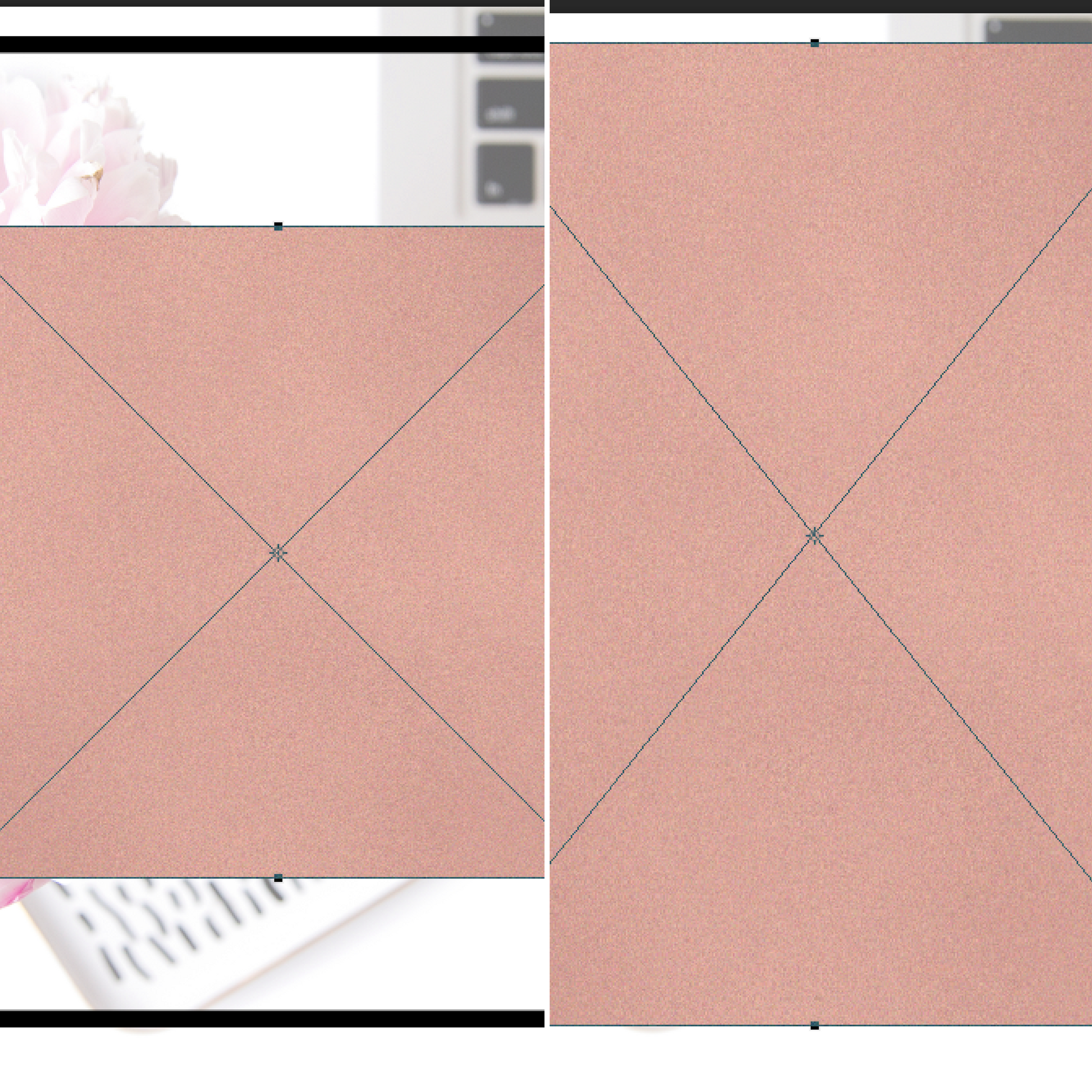 Once you have done that, you will click the "Layer" menu, then click "Clipping Mask" like the below picture shows.
After you have done that, you should have something that looks like the below picture. Depending on what you chose, yours will look different than mine, and that is okay!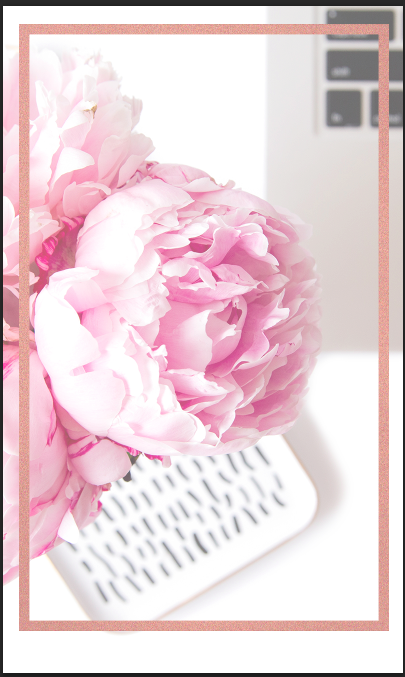 There are just a couple more steps that I take to get the image template that I have. I use another rectangle at the very bottom of my image (Set at a different color), and then with my blog name and I use the same rose gold foil to create a clipping mask on the text!
So, for the other rectangle, it is the same steps as before, but this time I am going across the document instead of down it!
Then, I select the "T" in the left sidebar menu for "text" and click the "Layer" menu, then click "New" then "Layer" to begin adding the text. Click "okay" when the dialogue box appears.
From the top menu, select your font style, type in the size you want, then click the rectangle at the bottom of your image to begin typing. You might need to change the color, and to do that, hit CMD+A for Mac or CNTRL + A for Windows to select all your text, and then change the color. The color box is found underneath the "Adobe Photoshop" title!
If you choose to make another clipping mask for your text, it is the same process as for the rectangle. Just select your image, place it over the text, hit "Layer" and then "Clipping Mask" and you are done!
This is what mine looks like thus far! What I do next, before adding the blog post text & saving, is add a lighter rectangle inside the clipping mask rectangle to make the text more visible. It is the same process of dragging the rectangle, but this time setting the "fill" to be white instead of "no fill"!
Select your rectangle tool, and begin drawing the final rectangle, if you'd like! Once you do that, change the opacity (transparency) to what you like! I made mine at 50%, and this is what it looks like! See the difference?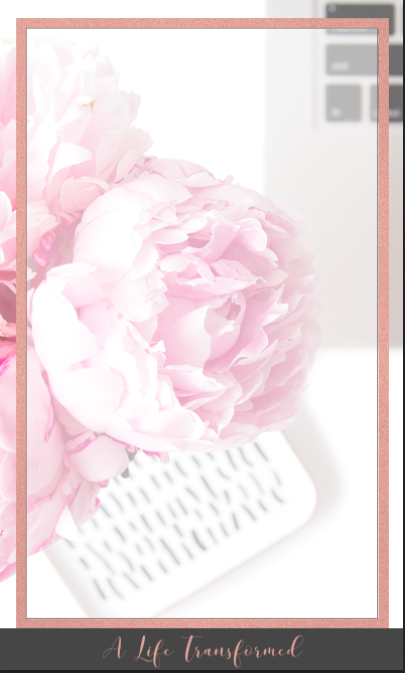 Now, you can select the "T" in the left menu bar for text, and click anywhere inside the rectangle to begin typing. In the top menu bar, you will find your font styles, text size, and color menus like the one below!
In the box beside the alignment selection, you can choose your color! I am going to use teal, since that is one of my primary blog colors! I usually make my text centered, but you can do whatever you like the best!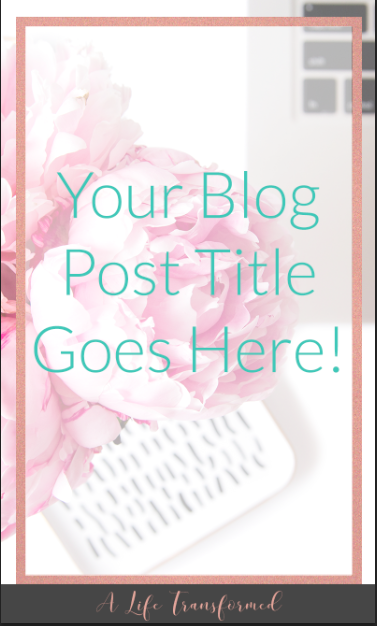 And you are DONE! Now, you just need to save it! The best way to save, is to save for web. To do that, hit "file", "save for web", and then click "Done"!
And that, my friends, is how I make blog graphics using Photoshop! I hope that this tutorial helped you in some way today! If you have any questions, do not hesitate to ask me! I will answer to the best of my knowledge and ability!
Now, go out there and make some pretty images!