Happy Monday! Today I wanted to share with you 5 apps I use daily to save time, streamline my workflow, and power up my productivity when it comes to running this blog. Maybe you're curious about what apps I've been using, and now's your chance to find out!
As a Blogger and Entrepreneur, it can get pretty overwhelming creating content and trying to come up with a game plan to share the content on all the social sites I'm active on. That's why apps are a must have for this girls productivity when it comes to this blog. Want even more options? Then see my post here about some other favorite apps of mine.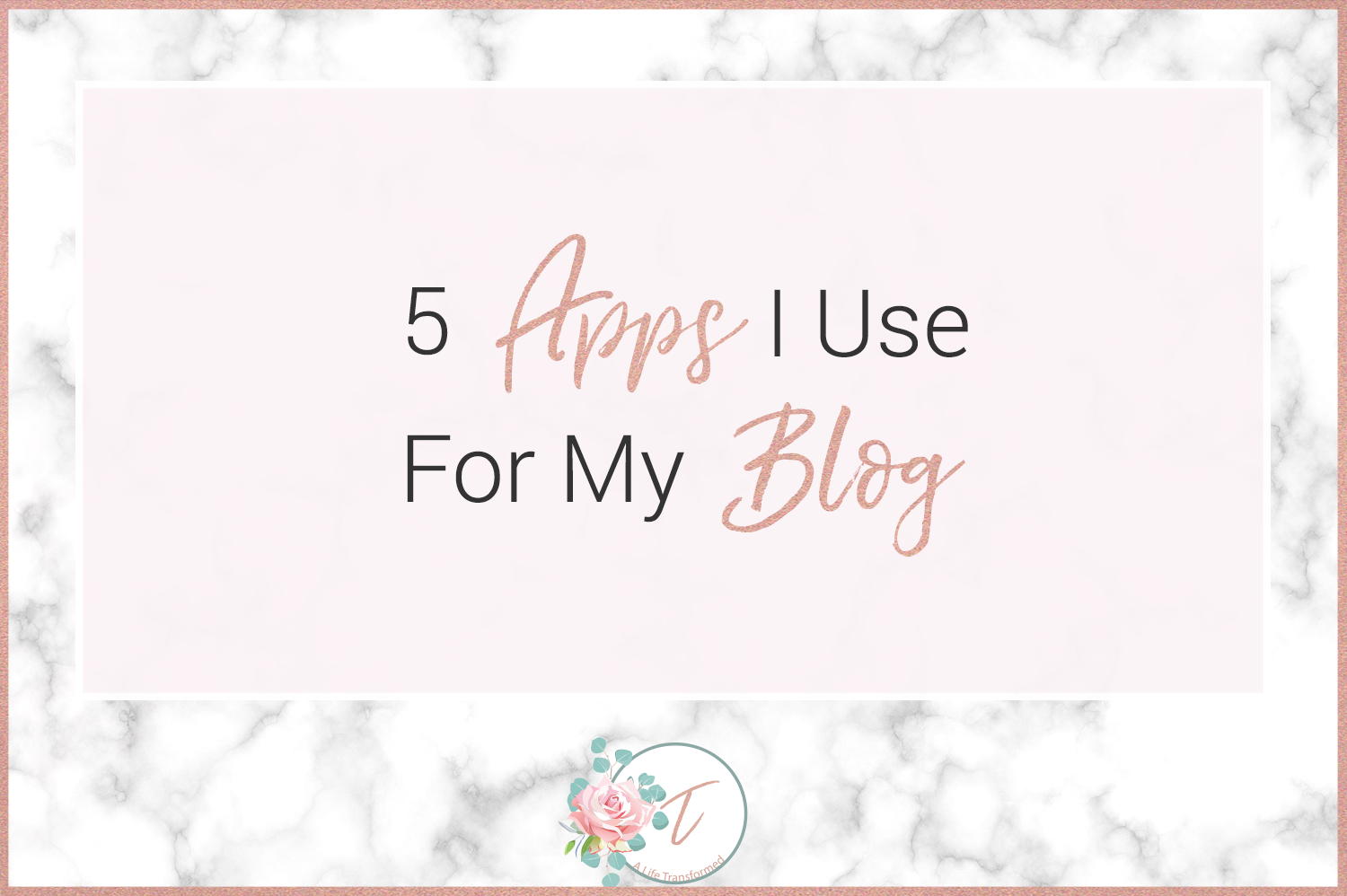 App #1: PLANN
This has easily become one of my favorite apps out there. I love it so darn much. I first heard about it from Jenna Kutcher when she talked about the 5 apps she can't live without and I decided to give it a try and fell in love. This app keeps my Instagram game strong so I can stay on top of it without having to make my brain work extra hard at remembering to post. I am spending so much less time planning out my Instagram posts thanks to this app, and I am able to be strategic about when I post without feeling pressured to post "in the moment".
Plann allows you to literally "plann" out your entire feed at once. There's a little library of images that you choose. You can see how those images will look together if you're trying to stick to a certain theme or color scheme. You can drag + drop images wherever you want, add a caption, schedule to post, and there's even a nifty hashtag feature as well as analytics! The best part? Once you have scheduled your post, Plann will send you a reminder on your phone and all ya gotta do is swipe it. Then the app will copy your caption + hashtags and open the Instagram app for you to paste your content and post! Swipe, tap, tap, DONE!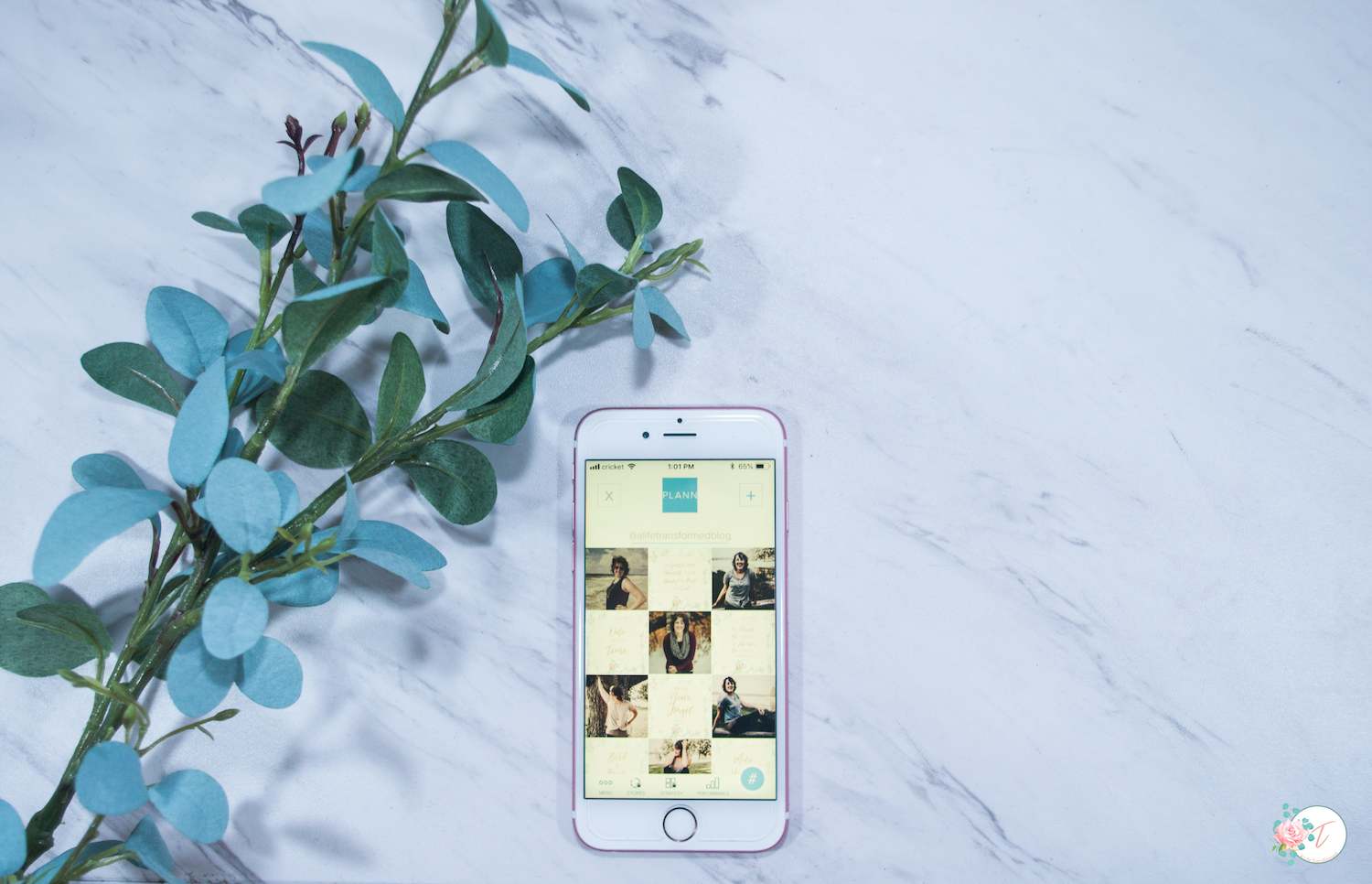 App #2: WHEN TO POST
This app is literally amazing as well. When To Post does exactly what the name implies. It tells you the best times for you to post on Instagram for maximum exposure if that's your thing. As a blogger, I want to know that my content is reaching as many people as possible in Instagram land, and this app helps me know when my audience is most active.
There's nothing really fancy about it, but it does its job well. It gives you the top three times of day when your audience is most active. For me, if I am getting ready to schedule a post for Instagram, I will usually check the When To Post app first before going to Plann to schedule my post to make sure I am posting at the best time. Personally, my audience is most active in the evening so that's when all my posts will be. During the day, I use the time I have to engage with other people and enjoy the app for myself. It is also one of my fave apps to use.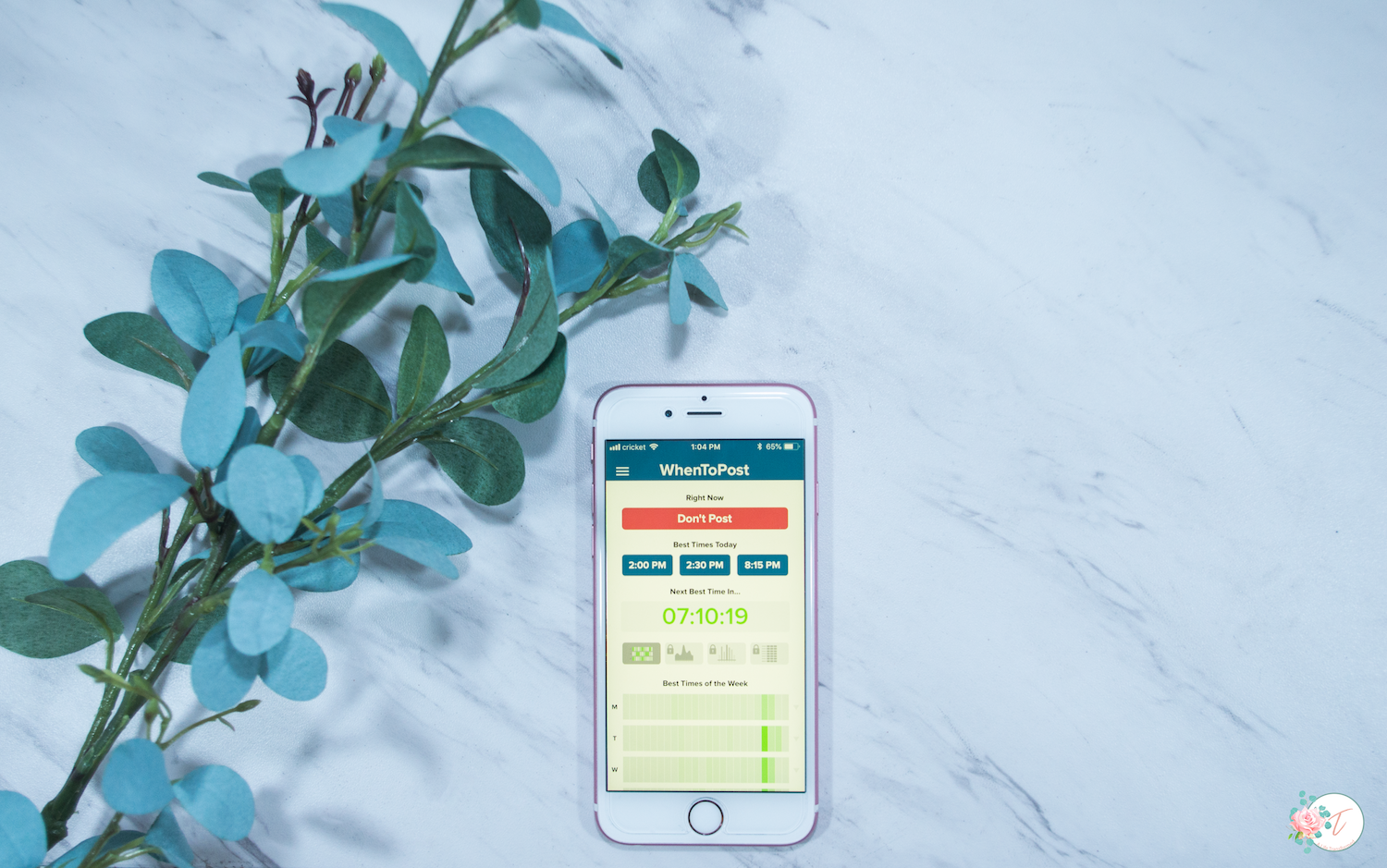 App #3: VSCO
This one is a newer apps addition that I've started using, but I like it. I edit almost all of my images in LightRoom first, but then I will take those photos and do minor adjustments in VSCO to get the look just right for what I am trying to go for.
It is free, but there are upgrades you can purchase within the app for more diverse editing capabilities. VSCO makes it easy to adjust your images to create your perfect style. I generally don't edit too much as I try to keep mine more natural looking, but you can do whatever you like!
App #4: BUFFER
This app is literally a life saver when it comes to productivity for my blog. I use this app to schedule posts for Facebook and Twitter anytime I have a new blog post. It makes it easy to write your captions, schedule posts, and sit back and relax while Buffer does the rest for you. This is literally one of if not the best apps for automating your workflow.
It is so easy to use as well. All I have to do is open the app, tap the "plus" button, write out my caption, paste the url, schedule, and DONE! It's so so easy and such a time saver. Everything is automated and you can kick back and relax knowing your blog posts are in good hands. You don't even need to be a blogger to use Buffer. If you want to share on social media but you're stuck at work, you can use buffer to post your statuses for you even if you can't physically do it when you want. It really is such a versatile app.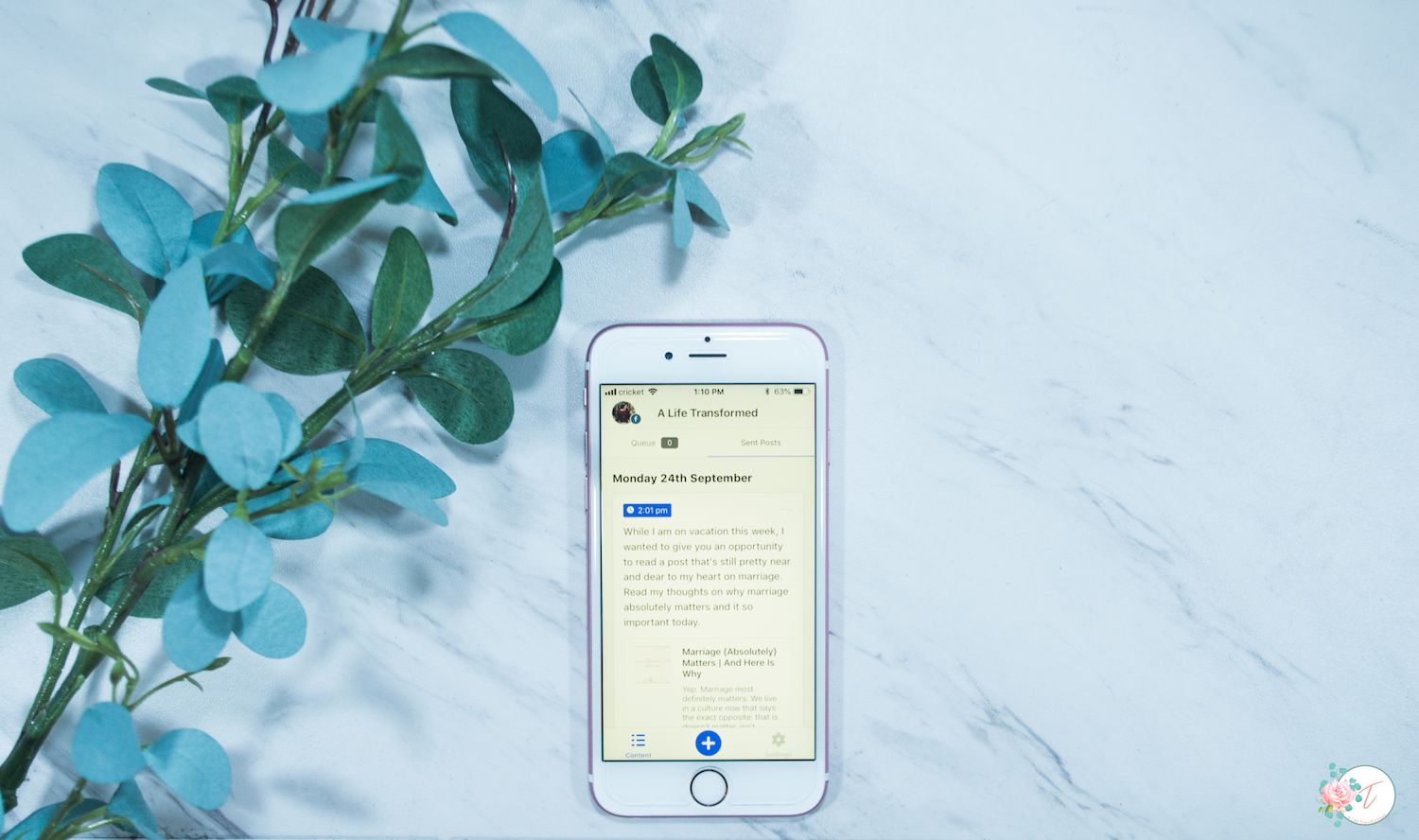 App #5: IFTTT
This is such a neat app. If you haven't heard of it before, you won't forget it now. It stands for If This, Then That. Basically, IFTTT lets you create "applets" for your social media. For example, if you wanted your new WordPress post to be shared on Facebook, then you can make an applet with Facebook and WordPress called "If Any New Post On WordPress then share post to Facebook" that would share your latest blog post to Facebook.
I primarily use this app for sharing Instagram posts to Twitter, but you can use it for a lot of different things! One thing to note would be, IFTTT doesn't allow you to customize your statuses with links from what I have found, so if you're sharing a blog post, it will have something generic in your posts. With plain images I think that's fine, but with links I haven't figured out how to customize those so just be aware. Other than that, this platform is golden as far as automation goes, so it's worth checking out and possibly adding to your own list of favorite apps to use.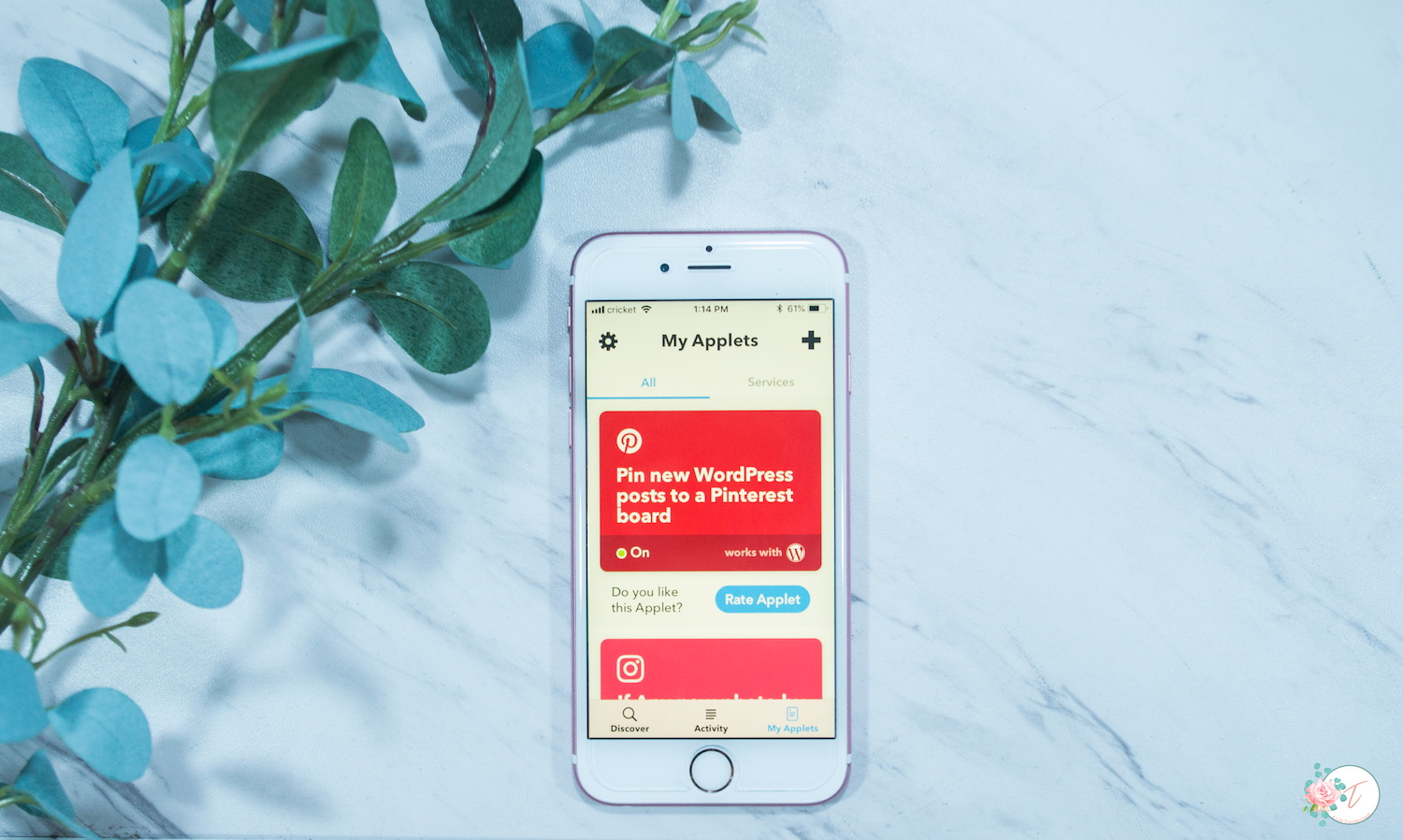 So there you have it! 5 apps that I use daily for my blog to save time, streamline my workflow, and power up my productivity for the blog. I hope it was useful to you and that you can up your game with the helpful apps.
Have any others you'd like to add to the list? Head over to Instagram and drop me a DM or leave me a comment and let me know which apps you use that I should download too!